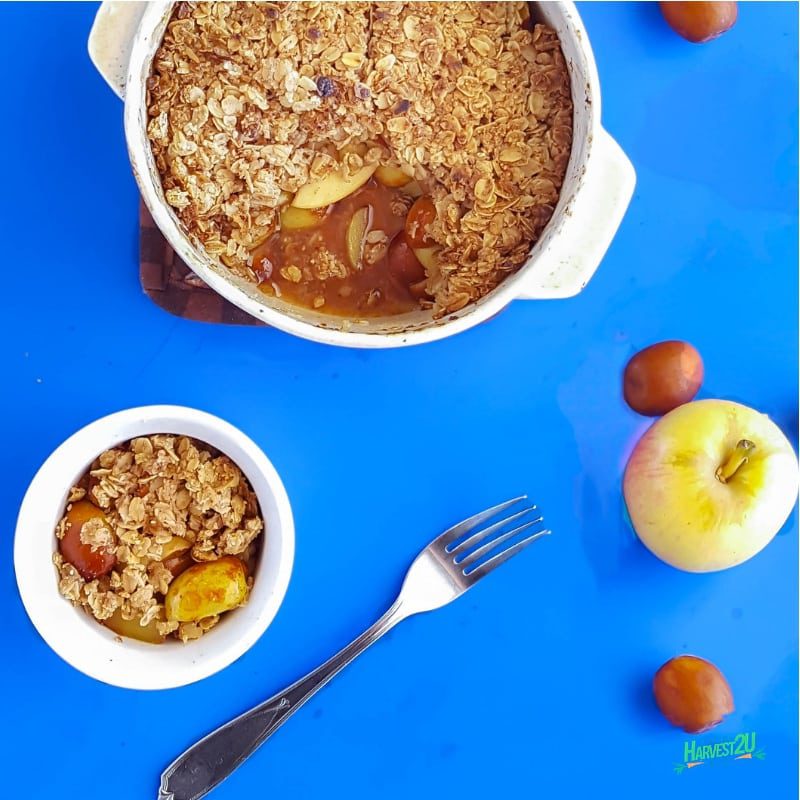 Apple Jujube Crisp – Perfect For The Fall Season
This Apple Jujube Crisp recipe is a simple no sugar added dessert that is perfect for the Fall season. It is delicious by itself or with frozen yogurt or ice cream.
Jujubes, also known as Chinese red dates, Korean dates, or Indian dates, are a beautiful fruit that is similar to apples when they are young and like dates when they ripen and become wrinkly. Jujubes have more vitamin C than citrus fruits and have a load of other nutrients to aide with stomach and intestinal illness and perhaps prevent cancer. This recipe is best with young jujubes. With more mature Jujubes I would recommend making these fantastic Spiced Jujubes.
Apple Jujube Crisp Ingredients
2 cups jujubes
2 apples
2 tablespoon maple syrup
1/2 teaspoon cinnamon
Jujube Crisp Topping
1/2 cup oatmeal
1/3 cup almond meal (crush 1/3 cup almonds in a blender or food processor until flour-like)
2 tablespoons coconut oil
1 tablespoon maple syrup
1/2 teaspoon cinnamon
Directions
Preheat oven to 425 degrees.
Grease a 1-quart baking dish.
Remove the seeds from the jujubes.
Seed and slice the apples.
Combine in a small bowl with 2 tablespoons maple syrup and 1/2 teaspoon cinnamon. Pour into prepared baking dish.
Combine topping ingredients and pack down on top of the fruit.
Bake until topping is browned and fruit is soft.
Serve immediately.