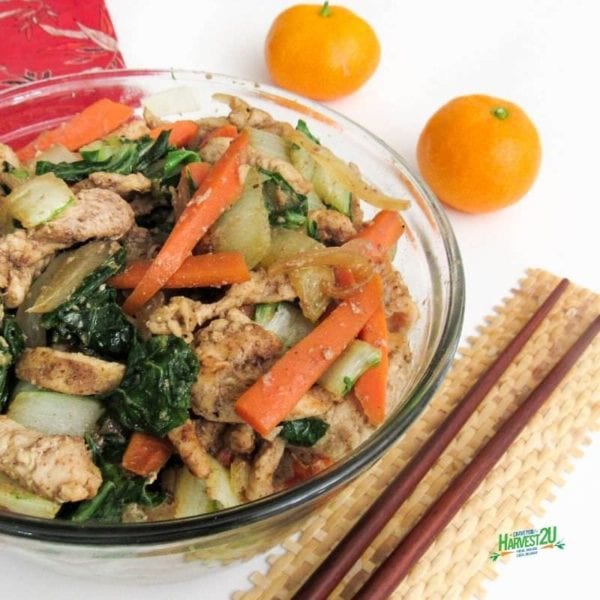 Asian Chicken and Vegetable Stir Fry – Simple and Healthy
This Asian Chicken and Vegetable Stir Fry is a simple but healthy meal that can be ready in under 30 minutes. The vegetables retain their crispness (and nutrients), offering a nice compliment to the tender chicken.
The two essential vegetables here are carrots and bok choy, both of which are excellent sources of the antioxidant vitamin A, plus vitamin C and folate. Bok Choy is also called pak choy or pac choy or white cabbage or Chinese cabbage. As a member of the cabbage family, it offers us sulfur-containing compounds that can reduce the risk of certain cancers. (source), but it is much milder than other cruciferous vegetables.
Asian Chicken and Vegetable Stir Fry Ingredients
1 pound chicken breasts or thighs, cut into thin strips
1 tablespoon cornstarch or arrowroot
1 tablespoon olive oil
1 teaspoon Chinese Five Spice
1 teaspoon fresh ginger, minced
1 garlic clove, minced
1 medium onion, sliced in thin strips
1-2 medium carrots, cut into matchsticks
1 large head bok choy, cut into strips; separate the top leafiest parts
2-3 tablespoons tamari or low sodium soy sauce
Directions
Coat the sliced chicken with the cornstarch.
In a 9″ or larger skillet or wok, heat the olive oil on high.
Add the chicken and sprinkle with the five-spice.
Cook for 2-3 minutes until the bottoms are white.
Stir and continue cooking until the chicken is mostly cooked.
Push the chicken to one side of the pan (or remove if you want more room in the pan).
Add ginger, garlic, and onions and cook until the onions start to turn translucent 2-3 minutes.
Add the carrots and white stems of the bok choy and cook until they soften about 5-7 minutes.
Stir in the chicken.
Add the leafy parts of the bok choy and the tamari sauce.
Cook until the leaves are wilted and the chicken is completely cooked.
Serve your Asian Chicken as-is for a low carb dish or with rice or noodles.