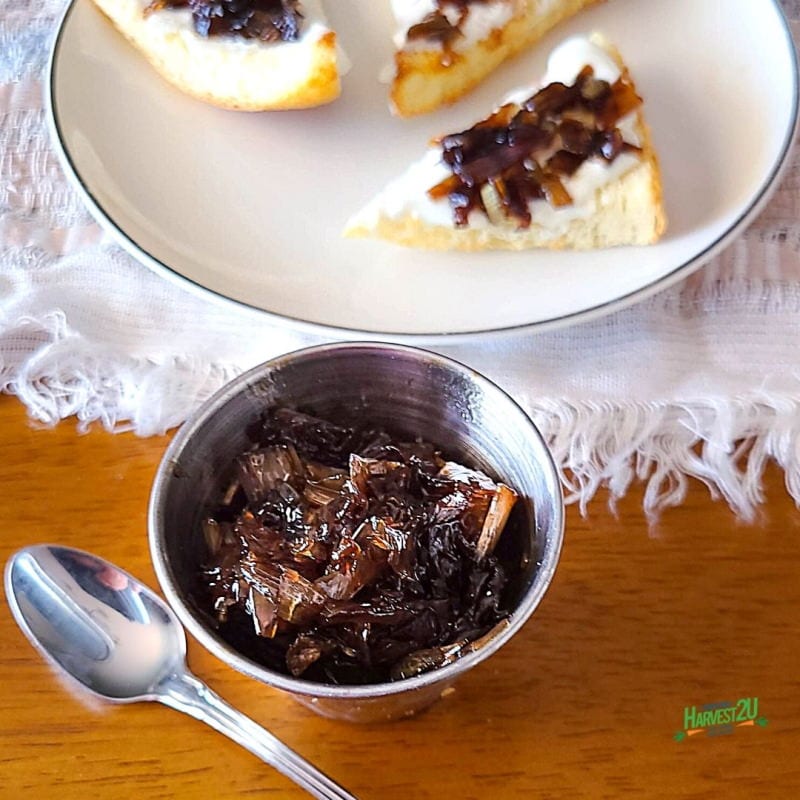 Caramelized Balsamic Shallots – a Simple Condiment
Caramelized Balsamic Shallots is a simple condiment that is great on top of canapes, smeared on a sandwich, or served alongside a cheese or charcuterie tray.
The flavor profile of Caramelized Balsamic Shallots is so complex, so interesting. Any hint of sharpness is gone, and instead, you get this wonderful, creamy sweetness. It's like magic! It's always amazing how cooking changes onions, which is true for shallots, too, of course.
Shallots are a member of the allium family, like onions, leeks, and garlic. They look like a large garlic clove and have a mild onion-like taste. Like the other members of the allium family, they have antibacterial, antifungal, and antiviral properties. They are loaded with antioxidants, particularly allicin, released when the shallots are cut or crushed.
Caramelized Balsamic Shallots Ingredients
6-10 shallots, about 1 cup chopped
2 tablespoons olive oil
3 tablespoons Balsamic vinegar
3 tablespoons maple syrup (or honey or agave syrup).
Directions
Trim ends of shallots and remove brown outer skin then roughly chop.
In a small skillet heat olive oil over medium heat.
Add shallots and cook for about 5 minutes until soft and lightly brown.
Add vinegar and maple syrup and cook for another 5-7 minutes until thick and jam-like.
Always use organic fruits and vegetables in your recipes.
Do you live in one of these Southern California Cities? Aguanga, Fallbrook, Hemet, Homeland, Lake Elsinore, Menifee, Murrieta, Temecula, Wildomar, or Winchester.  If you do, you can use the local organic fruits and vegetables in our harvest deliveries for these recipes.
Resources and Recipes