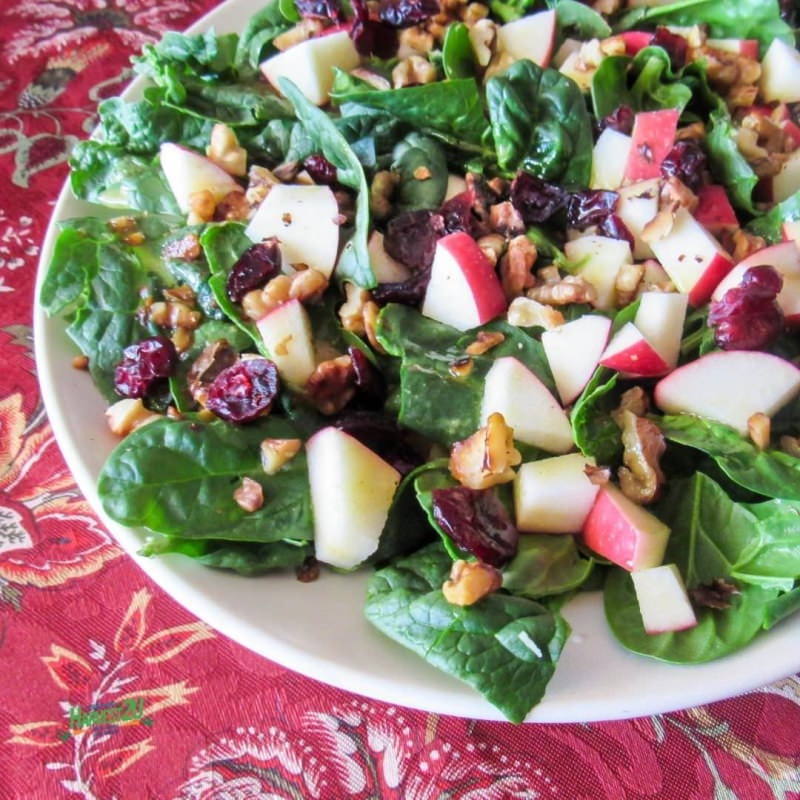 Cranberry Apple Spinach Salad – Quick, Delicious and Healthy
Cranberry Apple Spinach Salad is as quick and delicious as it is healthy. Just a few simple ingredients pack a powerful punch.
The salad starts with spinach, a dark leafy green loaded with vitamins K, A, and C, plus manganese, potassium, calcium, and other goodness. The apple and cranberries (or raisins) add some sweetness and tartness as well as vitamin C and fiber. The walnuts bring in some protein and healthy fats.
Top it with a simple homemade honey mustard vinaigrette and it makes a wonderful side salad. Add leftover chicken or pork for a low carb high protein meal.
Cranberry Apple Spinach Salad Ingredients
10-12 ounces fresh spinach leaves
1 large apple (any variety)
1/4 cup chopped walnuts
1/4 cup dried cranberries (or raisins)
3 tablespoons olive oil
1 tablespoon apple cider vinegar
1 teaspoon Dijon mustard
1/2 teaspoon honey
salt and pepper to taste
Directions
Wash and drain spinach, tearing large leaves into bite-sized pieces. Put into a salad bowl.
Core apple and cut into small cubes. Add to the salad bowl.
In a small skillet, toast walnuts for about 2 minutes over medium heat. Watch carefully so they don't burn. Add to the salad bowl with dried cranberries.
In a small bowl, whisk together salad dressing ingredients. Pour over salad, toss and serve.