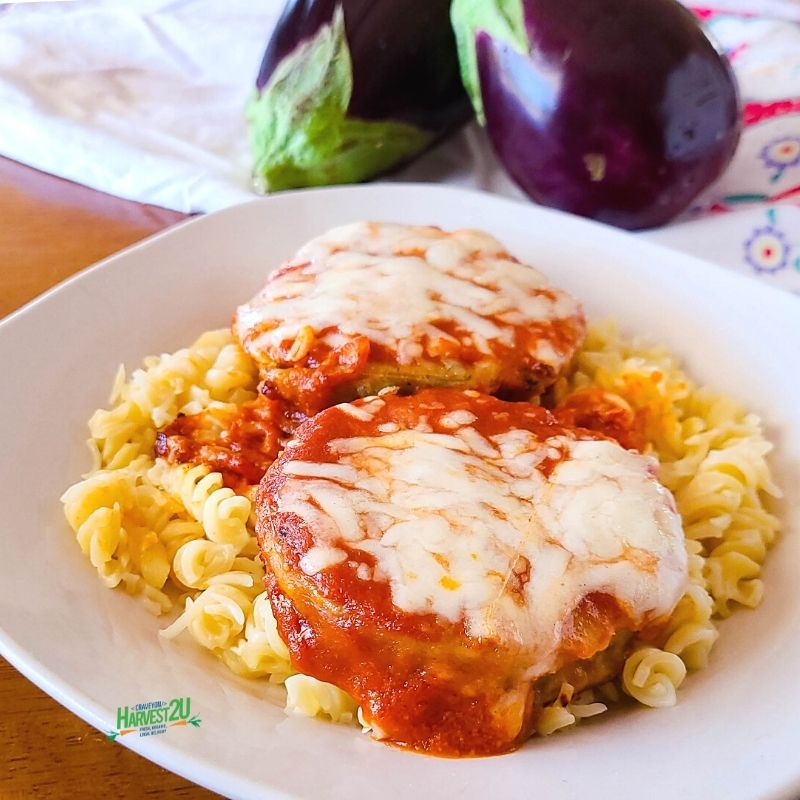 Eggplant Parmesan – Healthy One-Pan Vegetarian Meal
Eggplant Parmesan is a healthy one-pan vegetarian meal that you can have on the table in about 30 minutes. It is low in fat, loaded with antioxidants, vitamins, and minerals, and can be made gluten-free (use gluten-free flour) or vegan (egg substitute and vegan cheese) if desired.
While the skin of the eggplant contains powerful antioxidants, in this recipe it can become a bit tough around the edges. I peeled it, but you do you.
Eggplant Parmesan Ingredients
1 medium eggplant
1 large egg (or other liquid egg substitute)
1 tablespoon water
1/2 cup all purpose flour (or gluten free)
1 teaspoon Italian seasoning
2 tablespoons olive oil
2 tablespoons grated Parmesan cheese
1 cup Marinara sauce
1/2 cup mozzarella cheese
fresh herbs, chopped for serving (optional)
Directions
Peel eggplant and slice into 1/2 inch rounds.
In a small flat bottom bowl, whisk together egg and water. In another flat bottom bowl whisk together flour and Italian seasonings.
Dip eggplant slices into the egg wash to coat both sides, move to the flour and coat both sides.
In a large skillet, heat olive oil over medium heat. Place half of the eggplant slices in the pan and cook about 2-3 minutes a side, until the crust begins to brown. Flip over and repeat on the other side. Remove from the pan and repeat with the other half of the eggplant slices.
Wipe out the pan then arrange the eggplant in the skillet, nestling them together tightly. Sprinkle with Parmesan cheese. Pour marinara sauce on top then sprinkle with the mozzarella cheese.
Cover and cook over medium for another 4-5 minutes until the sauce is hot and the cheese is melted.
Serve in buns or with pasta or polenta.
Always use organic fruits and vegetables in your recipes.
Do you live in one of these Southern California Cities? Aguanga, Fallbrook, Hemet, Homeland, Lake Elsinore, Menifee, Murrieta, Temecula, Wildomar, or Winchester.  If you do, you can use the local organic fruits and vegetables in our harvest deliveries for these recipes.
Resources and Recipes