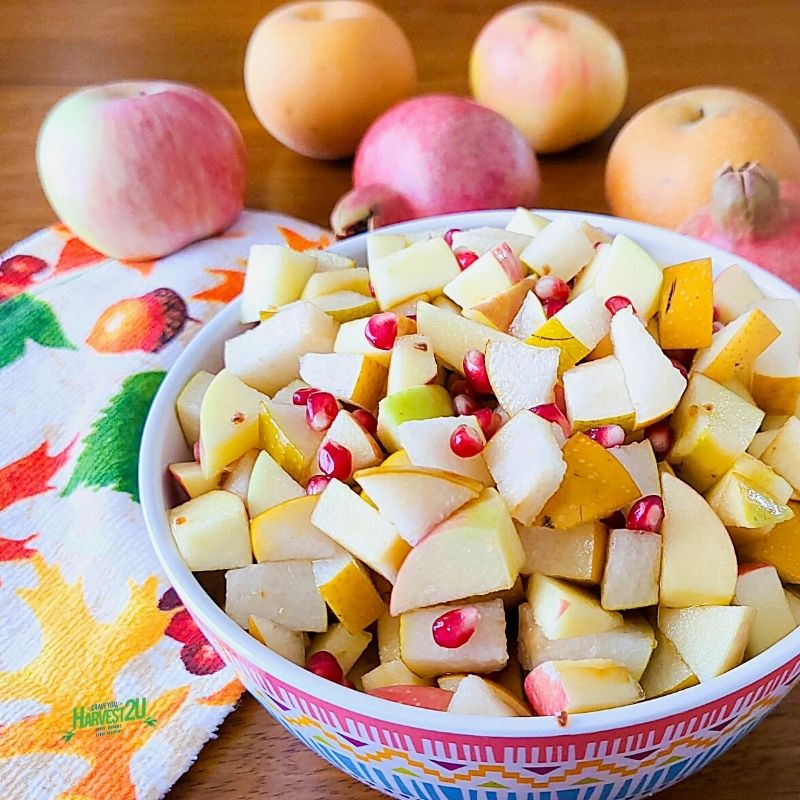 Honeyed Fall Fruit Salad – Fabulous Taste of Autumn
Honeyed Fall Fruit Salad is a deliciously simple fruit salad of apples, pears, and pomegranate with just a touch of honey and lemon.
This simple recipe can be served cold like a fruit salad, or heat the fruit with the honey mixture and make a compote to serve on top of your favorite protein (like pork chops) for a fabulous taste of autumn.
3 Reasons Why You Should Eat a Fruit Salad Ddaily
Improves Digestion
A fruit salad has a very high amount of fiber that works wonders for digestion.
Weight Loss
Fruits consist of water and fiber, ensuring high energy levels and low-calorie intake for weight loss.
Healthy Nutritional Characteristics
Fruits are rich in vitamin C, nutrients, and antioxidants.
Honeyed Fall Fruit Salad Ingredients
2 medium apples
2 medium pears
1 pomegranate
1/2 lemon
1/4 cup honey
2 tablespoons water (more or less depending on the thickness of the honey)
Directions
Core and chop the apples and pears into about 1/4 inch pieces.
Remove the pomegranate arils (seeds).
Add all three to a medium bowl.
Grate the zest (yellow part only) of the lemon. Add the lemon zest, juice, and honey to a small saucepan.
Heat until a thin syrup forms, adding additional water if the honey is too thick.
Pour over fruit and serve.
Always use organic fruits and vegetables in your recipes.
Do you live in one of these Southern California Cities? Aguanga, Fallbrook, Hemet, Homeland, Lake Elsinore, Menifee, Murrieta, Temecula, Wildomar, or Winchester.  If you do, you can use the local organic fruits and vegetables in our harvest deliveries for these recipes.
Resources and Recipes
FREE Weekly Video Recipe Series
Sign-up for our 30-second (all under a minute) video recipe series is designed to provide you with an easy way to use Harvest2U's locally grown organic produce.