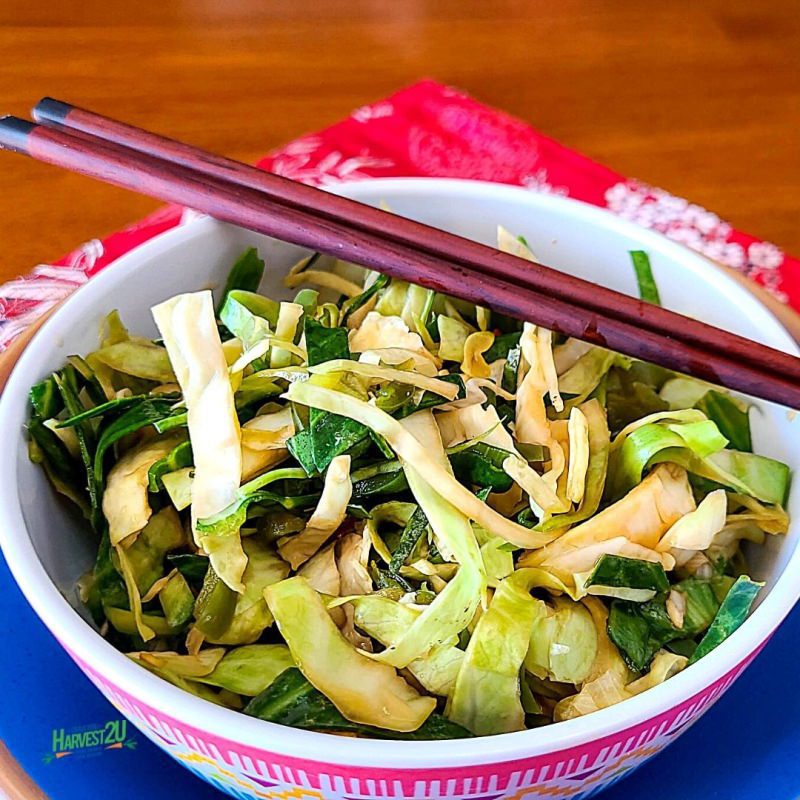 Japanese Pickled Cabbage – A Quick Pickle
Japanese Pickled Cabbage is a salad/condiment served alongside meals in Japan. This is a quick pickle, with the vegetables sitting in the brine for just a few hours to pull out some water and infuse them with flavor before serving.
Cabbage is the star here. Napa or white cabbage would traditionally be used, but it is equally delicious with other cabbage varieties. 
Cabbage Fact: Cabbage has been cultivated for longer than nearly any other vegetable on record. To be accurate, more than 6,000 years! It originated in Shensi Province, China, sometime around 4,000 B.C.
Japanese Pickled Cabbage Ingredients
1 head cabbage
2-3 scallions
1 green bell pepper
1/2 cup rice vinegar
1/4 cup tamari sauce (or low sodium say sauce)
1 tablespoon honey
juice from 1/2 lemon
1/8 – 1/4 teaspoon crushed red pepper flakes
Directions
Remove the core from the cabbage and slice in thin strips.
Slice the scallions diagonally in thin slices.
Cut the top off the bell pepper scoop out the seeds and veins, then cut pepper into thin rings.
Combine the vinegar, tamari sauce, honey, lemon juice and pepper flakes in a small bowl.
Combine vegetables and marinade into a medium bowl. Place another bowl on top of the vegetables and weigh it down with a 2 pound weight (cans of beans or tomato sauce work well).
Place bowl and weight in the refrigerator for 2-4 hours before serving.
Drain before serving.
Always use organic fruits and vegetables in your recipes.
Do you live in one of these Southern California Cities? Aguanga, Fallbrook, Hemet, Homeland, Lake Elsinore, Menifee, Murrieta, Temecula, Wildomar, or Winchester.  If you do, you can use the local organic fruits and vegetables in our harvest deliveries for these recipes.
Resources and Recipes