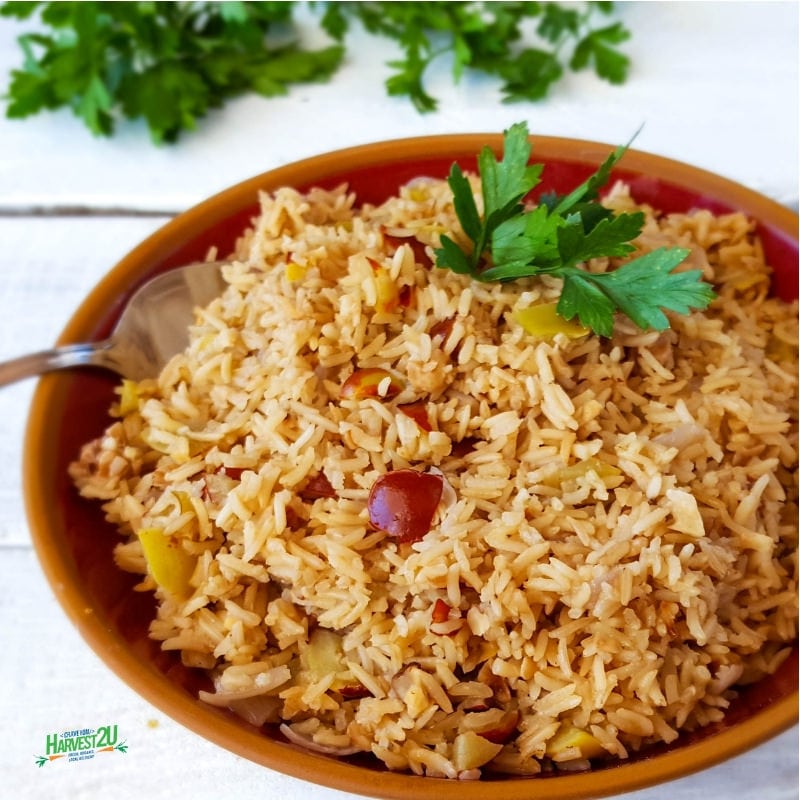 Jujube Pecan Rice Pilaf – A Gluten-Free Vegan Side Dish
Jujube Pecan Rice Pilaf is an easy gluten-free, vegan side dish flavored with toasted nuts and jujubes.
Jujubes, sometimes called Chinese red dates, Korean dates, or Indian dates, are a wonderful little fruit that tastes like apples when they are young and more like dates when they fully ripen. Jujubes have more vitamin C than citrus fruits and have a load of other nutrients to aide with the stomach, and intestinal illness and research are showing it can help prevent cancer.
For this Jujube Pecan Rice Pilaf recipe, I used quick-cooking brown basmati rice, which cooks similarly to long-grain white rice. If you use traditional brown rice, you will want more liquid and will need to lengthen the cooking time.
Jujube Pecan Rice Pilaf Ingredients
2 tablespoons olive oil
1/4 cup onions, chopped
1/2 cup pecans, chopped
2 cups quick-cooking brown basmati rice, uncooked
3 cups vegetable stock (or chicken or beef broth)
1 cup jujubes, seeded and chopped
1/4 cup fresh parsley, chopped
salt and pepper to taste
Directions
In a large saucepan, heat olive oil over medium heat.
Saute onions for one minute.
Add chopped pecans and brown rice and cook until nuts and rice begin to get toasty about 3-5 minutes.
Add stock and jujubes and bring them to a boil.
Reduce heat to simmer, cover the pot and let simmer 10-12 minutes until liquid is absorbed and rice is cooked.
Add salt and pepper to taste.
Sprinkle with fresh parsley and serve.
Always use organic fruits and vegetables in your recipes.
Do you live in one of these Southern California Cities? Aguanga, Fallbrook, Hemet, Homeland, Lake Elsinore, Menifee, Murrieta, Temecula, Wildomar, or Winchester.  If you do, you can use the local organic fruits and vegetables in our harvest deliveries for these recipes.
Resources and Recipes