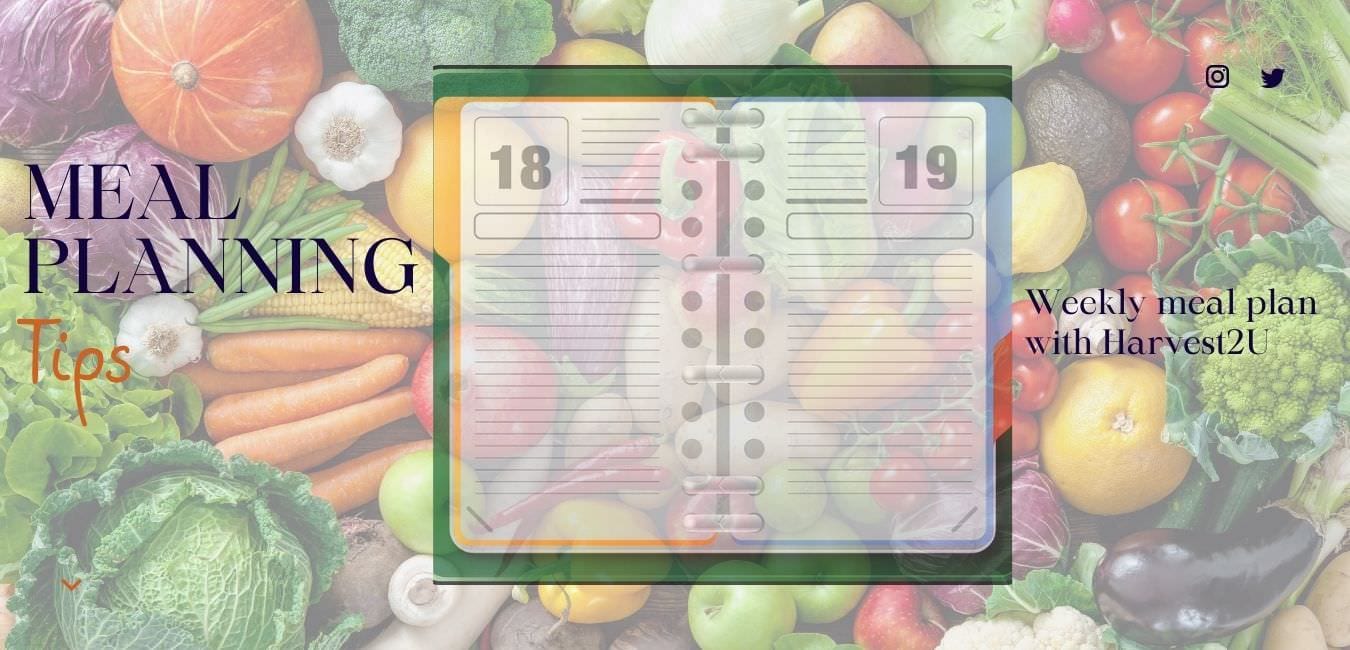 Meal Planning Tips with Harvest2U
Here are Meal Planning Tips with Harvest2U. Meal Planning is a great way to eat healthier, save money, and simplify your life. Here are a few tips to help you get started making a weekly meal plan with Harvest2U.
You will find this link on Harvest2U's Home Page. The "This Week's Harvest" page is updated each Friday after 6:00 pm.
Head to the website or check your email inbox for the produce you can expect to come on your delivery day.
If you have a Custom Harvest, you are probably in the habit of doing this so you can make your extra selections for the week. Customization can be made Friday after 6:00 pm
Some weeks, those on the Farmer's Choice plans may want to add some extra goodness to their orders after completing their meal planning. Just get them in by Sunday at 6 pm.
Check your Calendar
Are there any special events coming up? Which days need a quick, easy meal?
Add in takeout and/or leftover night if your family will enjoy it. Maybe have a "kids cook night" and let them choose the meal.
Check the Fridge
…and freezer and pantry.
Seek inspiration from what you already have in your kitchen.
Six boxes of noodles? Time to meal plan a pasta bake or pasta salad. A whole chicken in the freezer can be roasted on the weekend with leftovers added to a salad later in the week.
Think About What YOU LIKE to Eat
If your family doesn't like Mexican food, don't meal plan Taco Tuesday.
Pick a favorite meal for the night before your son has a big test. My son and I save the meals my husband doesn't care for on nights he teaches.
Consider slipping in one experimental meal per month (or even weekly if you feel adventurous) where you try a new ingredient or type of cuisine.
Search for Recipes
Not everyone has dozens of cookbooks like I do. Luckily we live in the Internet age.
Harvest2U has a collection of recipes on this site, as well as Pinterest boards loaded with ideas. You might also want to check some of these sites:
Shameless self-promotion time: I also have a blog full of recipes and plenty of inspiration on Pinterest.
Some other places for recipes for meal planning:
Write it your Meal Plant Down
You don't need a fancy binder with tabs for cuisines and cooking methods plus 600 recipes.
You also don't need to create a special meal, planning-whiteboard to hang in your kitchen.
Jot it down on the back of a scrap piece of paper and hang it on the fridge.
Or, you can use these free printable planners if you want to get a little fancier.
Write it in your day planner or your online calendar.
Shop and Prep
After you pick your meals, make a grocery list to pick up anything else you need.
When you get home from the grocery shopping and on your Harvest2U delivery day prep some of your ingredients to make daily cooking easier.
It only takes a little extra time to prepare 5 basic mason jar salads at once. Then on the day you serve it, dump it in a bowl, add some extra ingredients (if you want) and dressing.
Rinse and Repeat your Meal Plan
If you don't stick to your meal plan completely, that is OKAY! This is supposed to make your life easier, not add stress.
It may take a week or two to get in the habit of meal planning. Weekly might be good for some, while others might want to plan two or more weeks at once.
Experiment with recipes, preparation, and meal planning methods and find what works best for you and your family.