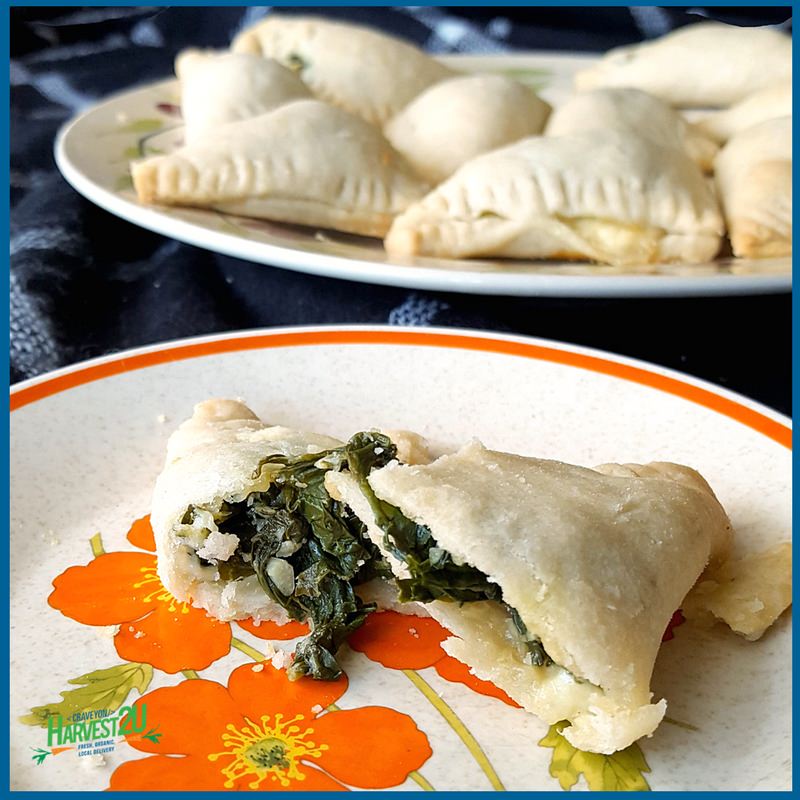 Mixed Greens Pockets – Fun Way to Eat Your Vegetables
These Mixed Greens Pockets are a fun way to eat your vegetables. Make them ahead of time and freeze them, then heat them up at the last minute for a hot appetizer or lunch.
Use your favorite greens in this, or mix and match a few. I made them with turnip greens and kale, but you can use spinach, mustard greens, collard greens, etc. A refrigerated pie crust makes these really easy, or you can use my favorite Hot Water Pie Crust and let it chill before making these.
Mixed Greens Pockets Ingredients
1 tablespoon olive oil
1/2 cup onion, chopped
2 cloves garlic, minced
4-6 cups chopped greens (kale, spinach, turnip greens, mustard greens, etc.)
salt and pepper to taste
1 unbaked 9″ pie crust
3/4 cup Swiss cheese, grated (or cheddar or provolone)
Directions
Preheat oven to 375 degrees.
In a skillet, heat oil over medium. Saute onion and garlic until translucent, 1-2 minutes. Add greens and cook until leaves are tender about 5 minutes.
Add salt and pepper to taste. Easy on the salt since there is some in the cheese and pie crust.
Roll pie dough into an 8″ by 18″ rectangle, slice into 12 4′ by 3″ rectangles.
Put a tablespoon of cheese and scoop of greens on each rectangle.
Fold into a triangle and crimp the edges. If the crust is a bit dry, you may need to dab the inside edge with a little water to seal the pocket.
Place on a baking sheet.
Bake at 375 degrees until lightly brown, about 10 minutes.