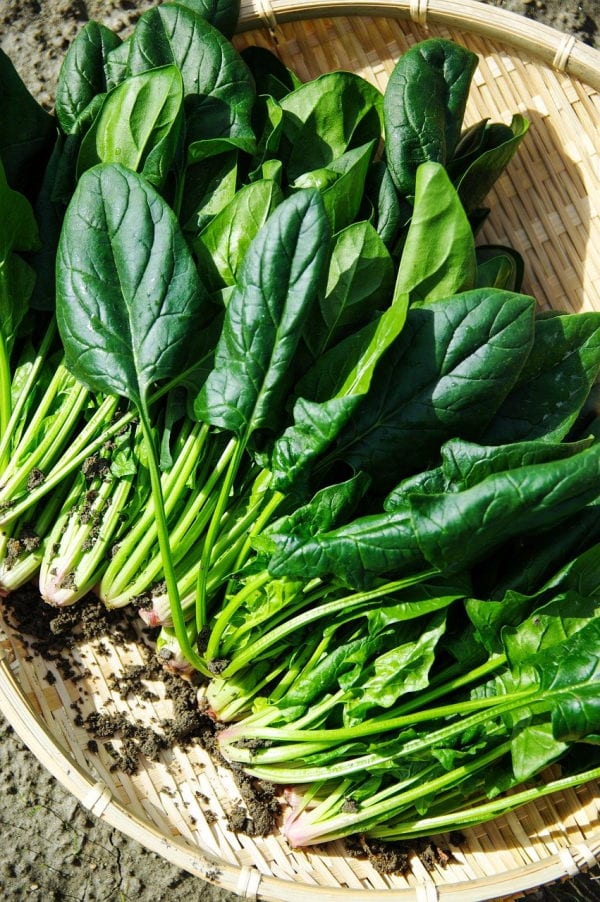 Organic Spinach – Superfood, Healthy, and Versatile
Organic Spinach is a superfood, low in calories and loaded with nutrients. It can be enjoyed raw or just lightly cooked in a few minutes and added to any meal from breakfast to dessert with its tender mild-tasting leaves.
Popeye was onto something with the health benefits of spinach. But skip the canned stuff and start with fresh. Spinach is loaded with both fat and water-soluble vitamins and minerals as well as potent antioxidant phytonutrients. Spinach is an excellent source of vitamins A, B2, B6, C, E, and K; minerals: manganese, folate, magnesium, iron, copper, calcium, and potassium; and fiber. And it is a good source of numerous other nutrients.
Studies have shown different benefits for both raw and quickly boiled or steamed organic spinach. Ideally, you want to enjoy both ways to get the maximum nutrient benefit.
If you have more than you can eat before it goes bad, you can freeze it for another time. There are 3 methods for freezing spinach depending on how you will use it:
Blanch clean leaves in boiling water for one minute, then dunk in ice water. Spin your organic spinach leaves in a salad spinner to remove much of the water. Place in a zip to lock freezer bag. Use within 1 year.
Chop clean, fresh leaves and place them in a zip lock bag.  Use within 6 months.
Puree leaves with a bit of water and freeze in ice cube trays, then place frozen cubes in zip lock freezer bags for more extended storage.
Organic Spinach Recipes
Not everyone appreciates a scoop of plain cooked spinach on their plate. As I said in the introduction, spinach can be added to every meal with a bit of creativity.
Breakfast: Add to juices or smoothies. Or quickly saute and add to omelets or scrambled eggs or a Spinach Quiche. Puree a little spinach and water and add it to your favorite pancake mix for some naturally dyed green pancakes.
Appetizers: Spinach dips are wonderful, especially when you skip the packaged ranch dressing mix and try one of these equally easy variations: Chipotle Spinach Dip and Caramelized Onion Spinach Dip or even Spinach Guacamole.
Side Dishes: Skip the bland blob of cooked spinach and try low carb Creamed Spinach or Apple Cranberry Spinach Salad or Spinach and Mushroom Gratin.
Main Courses: Add a handful of spinach to some of your favorite dishes like soups, sandwiches, pasta dishes, and more. Other recipes to try Spinach Tomato and Chicken Skillet and Spinach Curry Sauce with Crispy Tofu.
Desserts: Like with the pancake idea above, use a little pureed spinach to add green color to a variety of baked goods like these Spinach Blueberry Muffins or Spinach Lemon Sunflower Cake. Or you can hide the spinach-like the Vegan Spinach Brownies. You can also freeze your favorite smoothie and juice recipes in ice pop molds for healthy popsicles.
What are your favorite ways to enjoy organic spinach?