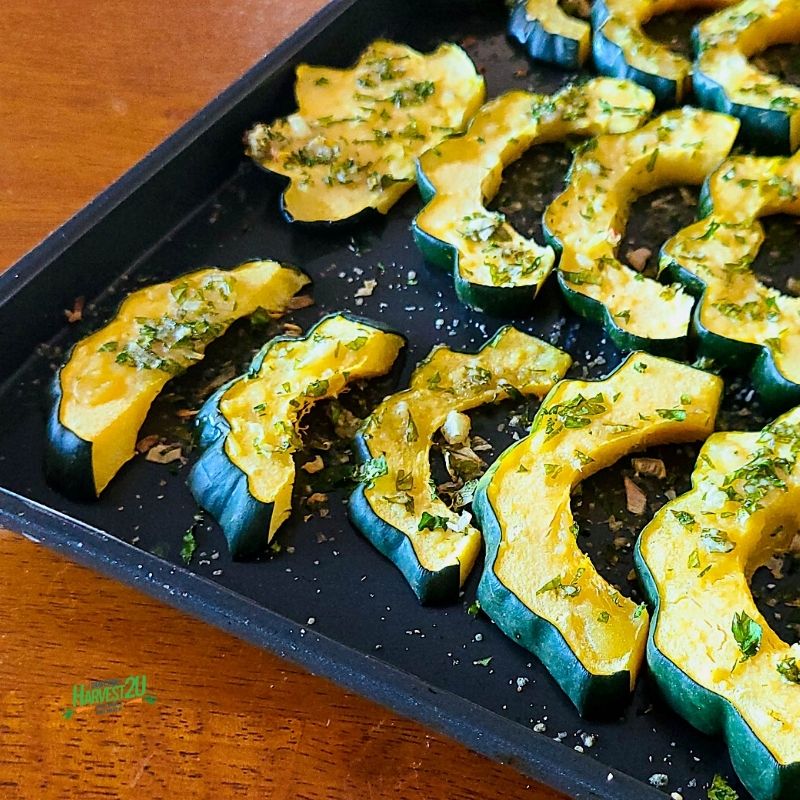 Parmesan Herb Squash – It's Easy to Prepare Winter Squash
Parmesan Herb Squash is an easy way to prepare winter squash that is quick enough for weeknights or make a larger batch for a holiday side dish.
Most winter squashes have a high concentration of carotenoids, particularly beta-carotene, which is responsible for the bright orange color of flesh. They also offer a healthy dose of vitamin C, folate, and fiber making them an excellent addition to your diet.
Mix and Match Squash and Herbs
One of the great things about this recipe is you can use just about any squash or herb or even a combination of several different types.
A few suggestion for Parmesan Herb Squash:
Winter Squashes: acorn, buttercup, butternut, delicata, Hubbard, kabocha, pumpkin, sweet dumpling.
Herbs: chives, fennel, oregano, parsley, rosemary, sage
Other options: garlic, shallots, paprika, cayenne pepper
Parmesan Herb Squash Ingredients
1 medium squash
1-2 tablespoons olive oil
1/4 cup Parmesan cheese, grated
1/4 cup freshly chopped herbs
freshly ground black pepper
Directions
Preheat oven to 400F.
Cut squash in half. Remove seeds and fibrous strands.
Cut off and discard stem end.
Cut squash in 1/2 inch slices.
Place squash, cut side down, on a baking sheet.
Drizzle with olive oil. Sprinkle with Parmesan and herbs.
Add pepper to taste.
Roast until squash is soft and top is lightly browned, 10-15 minutes.
Always use organic fruits and vegetables in your recipes.
Do you live in one of these Southern California Cities? Aguanga, Fallbrook, Hemet, Homeland, Lake Elsinore, Menifee, Murrieta, Temecula, Wildomar, or Winchester.  If you do, you can use the local organic fruits and vegetables in our harvest deliveries for these recipes.
Resources and Recipes