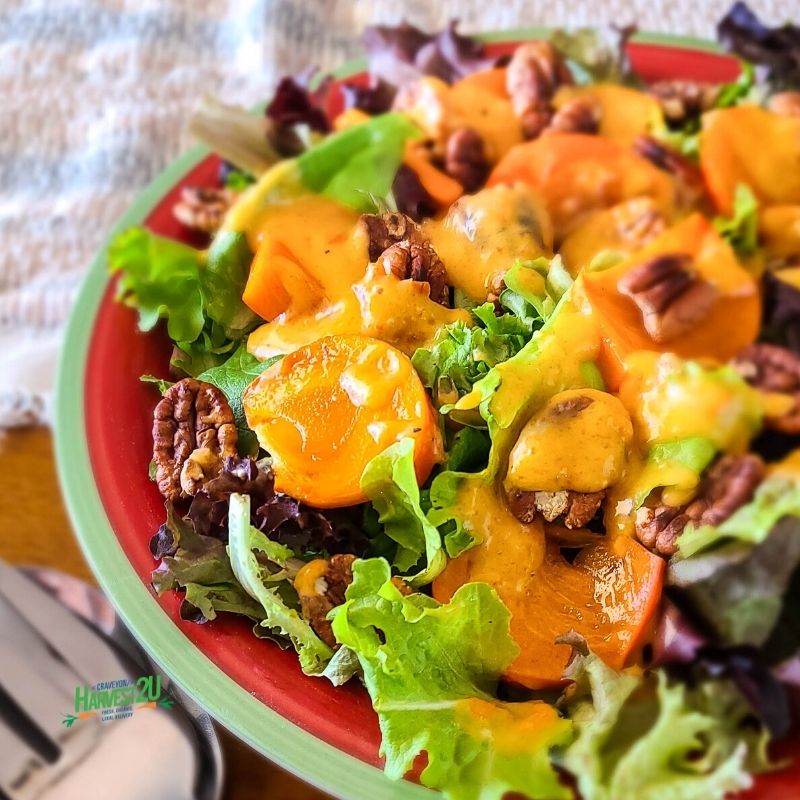 Persimmon Salad with Persimmon Vinaigrette
Persimmon Salad is simple and absolutely delicious when served with this easy homemade persimmon vinaigrette salad dressing.
I made this salad once for myself and recreated the dressing for a salad with radish greens and kale. The lightly sweet persimmon vinaigrette was a nice balance to the bitter greens. And the salad earned rave reviews from everyone, including a few that aren't salad fans.
If you chose to use Hachiya persimmon instead of Fuyu, make sure it is very soft and ripe. Otherwise, it could be too astringent for your taste.
Persimmon Nutrition
Persimmons are high in vitamins A and C as well as manganese and potassium. Each fruit is about 120 calories with 6 grams of fiber.
That beautiful orange color is due to the high concentration of beta carotene, a powerful antioxidant that can help prevent a host of chronic illnesses such as cardiac disease, mental decline, and several different types of cancers. (source)
Persimmon Salad Ingredients
1/4 cup pecan halves or pieces
1 Fuyu Persimmon
1 shallot (or a tablespoon of onion)
3 tablespoons apple cider vinegar
1/4 cup extra virgin olive oil
salt and pepper to taste
salad greens
Directions
In a small skillet, toast the pecans over medium heat for 2-3 minutes util lightly browned. Remove from heat and set aside.
Remove the persimmon stem and cut in half. Thinly slice half of the fruit and set aside. Cut the other half into a few chunks.
In a blender or food processor, add persimmon chunks, shallot, oil and vinegar. Blend until smooth. Add salt and pepper to taste.
Add salad greens to a plate or bowl, top with persimmon slices, toasted pecans, and salad dressing. Serve immediately.
Always use organic fruits and vegetables in your recipes.
Do you live in one of these Southern California Cities? Aguanga, Fallbrook, Hemet, Homeland, Lake Elsinore, Menifee, Murrieta, Temecula, Wildomar, or Winchester.  If you do, you can use the local organic fruits and vegetables in our harvest deliveries for these recipes.
Resources and Recipes