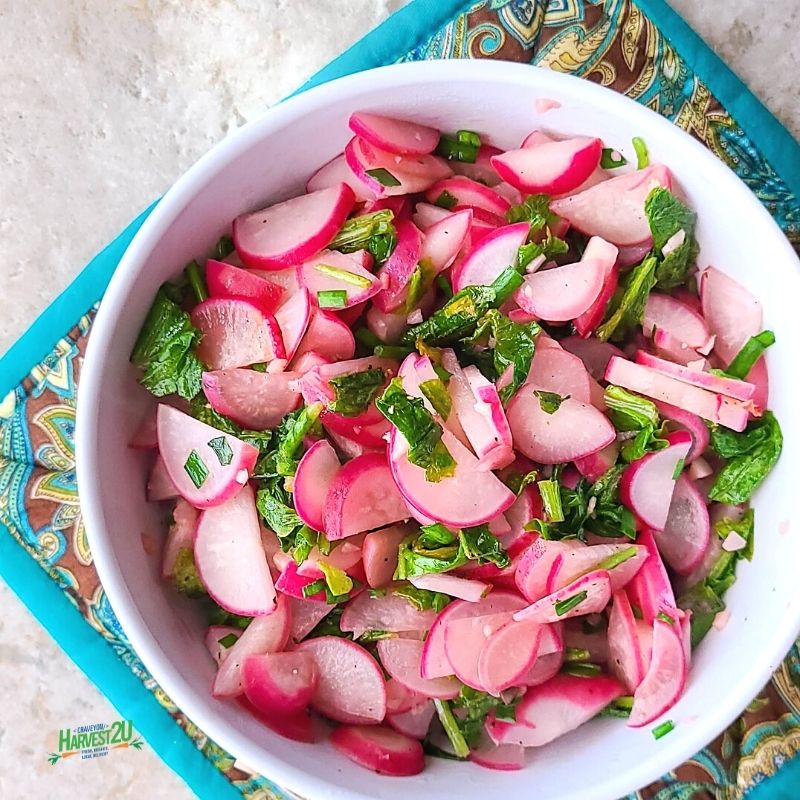 Sauteed Radishes and Greens – A Healthy Way to Prepare Radishes
Sauteed Radishes and Greens is a bright and healthy way to prepare radishes that will accent any main dish. And it is easy to double the recipe for a bright holiday side dish.
Most people only think of radishes as chopped in salads, but like carrots, potatoes, and other root vegetables, they are quite tasty cooked as well. And stop throwing your radish greens in the trash. They are a slightly bitter, but delicious, dark leafy green that is loaded with nutrition our bodies crave.
Radish Edibility
Though the Radish root is the main vegetable considered of the radish plant, the leaves, flowers, and young seed pods are also edible. Radish leaves are widely eaten in many mixed salads and vegetables. Radish is eaten cooked as well as raw.
Sauteed Radishes and Greens Ingredients
2 bunches radishes, with greens
2 cloves garlic, finely minced
1 tablespoon olive oil
2 tablespoons fresh herbs, chopped
salt and pepper to taste
Directions
Remove greens from radishes, thoroughly rinse and roughly chop.
Cut the radish bulbs in thin slices.
Heat olive oil in a large skillet over medium-high heat.
Add radishes and garlic, saute for 2 to 3 minutes until the radishes begin to soften.
Add greens and continue cooking for another few minutes.
Add herbs and season to taste with salt and pepper.
Heat another minute or two then serve.
Always use organic fruits and vegetables in your recipes.
Do you live in one of these Southern California Cities? Aguanga, Fallbrook, Hemet, Homeland, Lake Elsinore, Menifee, Murrieta, Temecula, Wildomar, or Winchester.  If you do, you can use the local organic fruits and vegetables in our harvest deliveries for these recipes.
Resources and Recipes