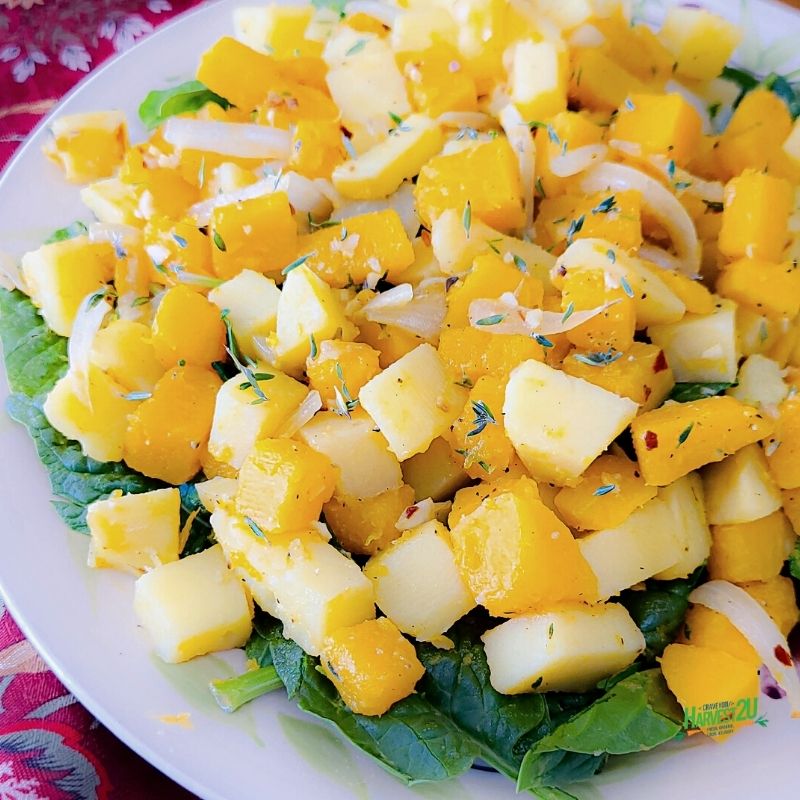 Squash and Potato Salad – A Healthy Colorful Side Dish
This Squash and Potato Salad is a colorful side dish in autumn and winter and is meant to be served warm or at room temperature (like Hot German Potato Salad).
I used russet potato in this, but you can use your favorite potato variety, including sweet potatoes. Some people think white potatoes are not as nutritious as sweet potatoes, but that isn't true; read more here.
You can also use your favorite winter squash. I went with butternut squash, but you can use pumpkin, delicata, kabocha, acorn squash, etc.
Cook once, eat twice tip: double the recipe and heat it the next night with some chopped cooked chicken for a quick meal.
Squash and Potato Salad Ingredients
1 medium butternut squash (or other winter squash)
1 large russet or sweet potato
1 tablespoon olive oil
1/2 yellow onion, cut in thin wedges
2-3 cloves garlic, minced
red pepper flakes, salt, and pepper, to taste
5-6 cups fresh spinach leaves
Directions
Peel the squash and potato and cut into 1/2 inch cubes. Place in a large skillet with 2 cups water. Bring to a boil and cook until tender, about 5-8 minutes. Remove squash and potato from skillet and set aside. 
Return skillet to stove, add olive oil and heat to medium. Add onions and garlic and cook until onions turn translucent about 2-3 minutes.. Add red pepper flakes to taste (start with a small pinch unless you like the heat).
Return potatoes and squash to the skillet and stir into the onions to reheat for a few minutes. Add salt and pepper to taste.
Serve over raw spinach leaves.
Always use organic fruits and vegetables in your recipes.
Do you live in one of these Southern California Cities? Aguanga, Fallbrook, Hemet, Homeland, Lake Elsinore, Menifee, Murrieta, Temecula, Wildomar, or Winchester.  If you do, you can use the local organic fruits and vegetables in our harvest deliveries for these recipes.
Resources and Recipes
FREE Weekly Video Recipe Series
Sign-up for our 30-second (all under a minute) video recipe series is designed to provide you with an easy way to use Harvest2U's locally grown organic produce.