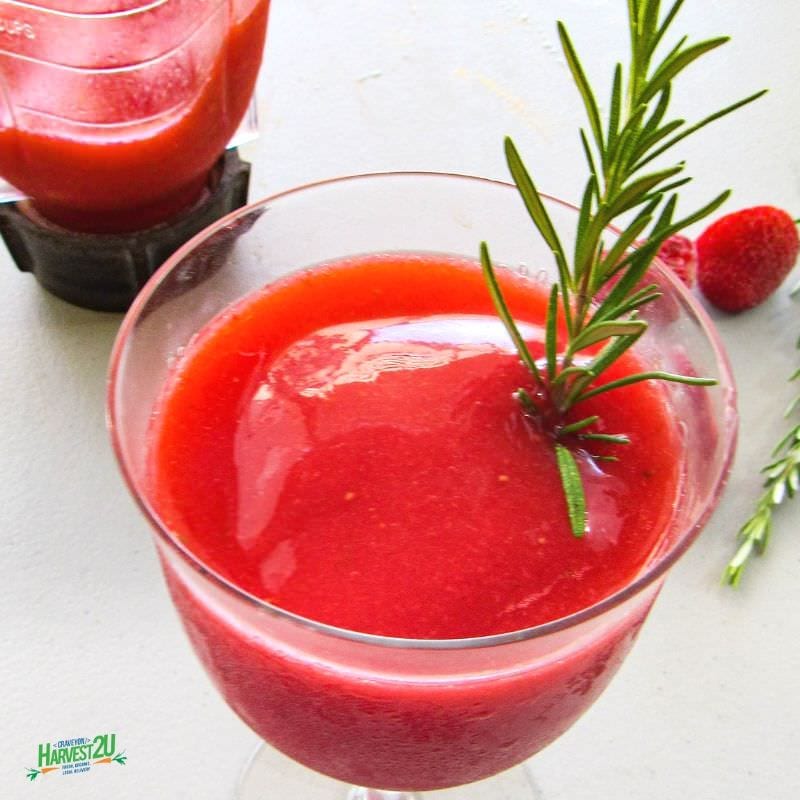 Strawberry Rosemary Wine Slushies – Beat The Heat
Strawberry Rosemary Wine Slushies are a delightful way to beat the heat during summer. And they are so simple to make.
Strawberries are loaded with heart-healthy antioxidants, especially vitamin C. The polyphenol compounds including the flavonoids that give them their red color as well as tannins and phenolic acids not only help the heart but are anti-inflammatory as well. (source)
It is important to note that strawberries are one of those foods that are often grown with loads of pesticides, so be sure to buy organic!
Red wine has been studied a great deal in regards to heart health. White wines have not been studied nearly as much, but one study showed it could assist with weight loss and may have an anti-aging effect. (source)
I paired the fresh organic strawberries with some rosemary from my garden and an Orange Muscat (Moscato) for this Strawberry Rosemary Wine Slushies recipe. But you can easily mix and match fruit, herbs, and wine to make a multitude of different flavors. Maybe blueberry, basil, and sweet red wine. Or watermelon with a rose.
Strawberry Rosemary Wine Slushies Ingredients
1 cup of fresh organic strawberries
1 sprig fresh rosemary (plus extra for garnish if desired
1 tablespoon agave syrup (more or less to taste)
2 cups chilled Orange Muscat (more or less to taste)
Directions
Wash and remove the stems from the strawberries. Cut in half or quarters if they are large. Place in a single layer in the freezer.
Remove the leaves from the rosemary stem and crush with the agave syrup. Add about 1/4 cup of wine and mix briefly.
Strain into a blender. Add strawberries and the remaining wine. Blend until strawberries are completely pureed.
Add additional agave syrup for a sweeter drink or more wine if it is too thick.
Serve in a wine glass with a rosemary sprig, if desired.