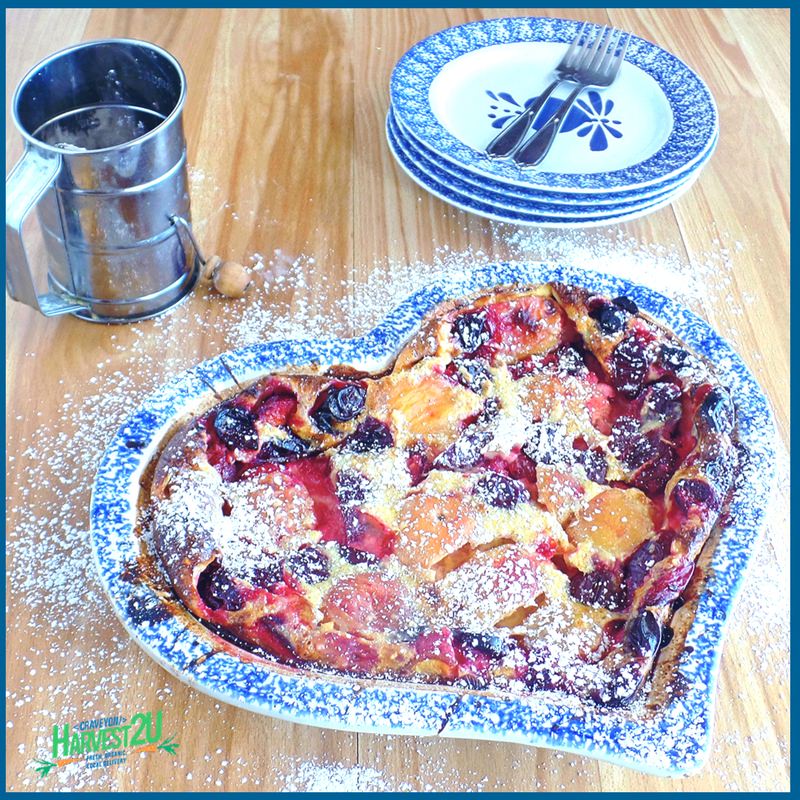 Summer Fruit Clafouti – A Pancake And Pudding
Summer Fruit Clafouti (pronounced "cla foo tee") sounds like a fancy complicated French dessert. It is actually a simple homey treat that is a cross between a pancake and pudding. Traditionally it is made with cherries, but any summer fruit like peaches, plums, and nectarines would be equally delicious. Cut the larger fruit into halves or quarters.
Summer Fruit Clafouti Ingredients
4 large eggs
1 cup milk
1/2 cup flour
1/3 cup organic cane sugar
1 teaspoon vanilla
1/8 teaspoon salt
1/4 teaspoon almond extract (optional)
2 cups pitted cherries or other summer fruit
organic powdered sugar for serving (optional)
Directions
Note: this will look very puffy when you take it out of the oven and then it will collapse. 
Preheat oven to 400 degrees F. Grease a 10″ pie pan or another shallow baking dish.
Optional: place the pan on a flat baking sheet to make getting it in and out of the oven easier and to catch any overflow.
Whisk together all ingredients except the fruit.
Pour into the prepared pan.
Arrange fruit on top of the batter.
Bake at 400 degrees F until golden brown around the edges and the center is set, about 20-25 minutes.
Serve warm with powdered sugar dusted on top, if desired.