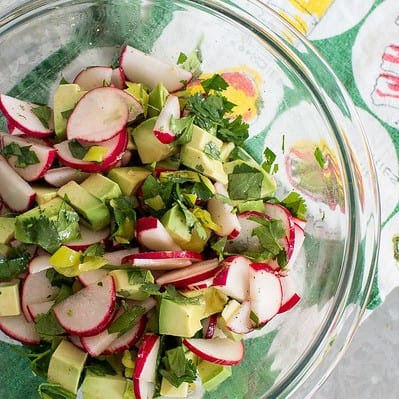 Tacos Radish Avocado Salsa – Hand-Made Tacos You'll Love
Switch it up a bit on Taco Tuesday. Try our Tacos Radish Avocado Salsa. Add your own "extras" to be sure everyone has the hand-made tacos they love.
Radishes are an exceptional source of vitamin C – 25% of the daily recommended value that helps rebuild blood vessels and tissues, and maintaining strong bones and teeth.
Fun Taco Fact
Anthropologists have discovered evidence that peoples of the lake area of the Valley of Mexico consumed tacos filled with fish. In the states of Guerrero and Morelos, fish were replaced by small live insects and ants, while snails and locusts were favorite fillings in Puebla and Oaxaca.
Tacos Radish Avocado Salsa Ingredients
One organic avocado, cut into 3/4-inch cubes
One teaspoon Olive Oil
Coarse salt and ground pepper
Six large red radishes, trimmed and cut in half
1 pound skirt steak (or substitute your favorite taco meat)
Two teaspoons freshly squeezed lime juice plus
1/4 cup chopped cilantro
One tablespoon chopped pickled jalapeno chile
One tablespoon ground cumin
One lime, cut into eight wedges
Eight fresh corn tortillas (taco sized)
Directions:
Heat broiler. Put your rack up high in the oven.
Gently stir together the avocado, radishes, lime juice, cilantro, jalapeño, salt, and oil in a medium bowl. Cover with plastic wrap placed directly against the salsa to keep out air and discoloring.
Place your steak (or other meat of choice) on a baking sheet lined with foil. Rub with cumin. Salt and pepper.
Broil (without turning) until browned. Approx. 6 to 8 minutes. Remove from broiler, place on cutting board, and tent for 5 minutes. (resting the meat).
Warm your tortillas.
Cut meat into thin strips, cutting on the diagonal.
Build your tacos!
Serve with lime wedges.