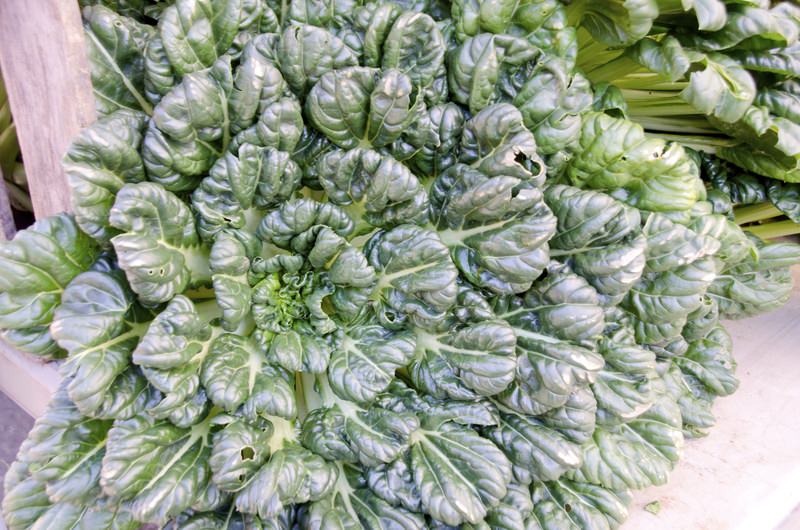 Tatsoi Mushrooms Asian Delight – Excellent Nutritional Value
Tatsoi is very much like bok choi. This tatsoi mushrooms Asian delight recipe brings the excellent nutritional value of tatsoi into an Asian blend of taste that will please your family. First, think peanut and ginger. Then, gently coax the flavor into a meal to delight.
This leafy plant has dark green spoon-shaped leaves that form a thick rosette. It has a soft, creamy texture and has a subtle yet distinctive flavor.
Tatsoi Mushrooms Ingredients:
3 heads organic Tatsoi (about 5 cups of leaves)
Cup boiling water
One-inch piece ginger root, peeled and minced
1 Tbsp. rice flour, tapioca flour or arrowroot
2 Tbsp. organic peanut oil
1 oz. dried oyster mushrooms
3 cloves garlic, peeled and chopped
2 tsp. coconut aminos
1 tsp. organic sesame oil
Directions:
First, separate Tatsoi into leaves. Rinse Tatsoi, soaking multiple times to remove the dirt. Trim stems and let drain in a colander.
Then cover dried mushrooms with just a cup boiling water and soak 10 minutes. When mushrooms are soft, remove them and in your hands crush them to remove moisture. Chop fine and set aside. Reserve mushroom liquid.
After this, mix rice flour (or substitute), soy sauce, and sesame oil in a small bowl. Add in 2 tsp of your reserved mushroom liquid, blending into a paste. Keep this sauce for stir-frying later.
Next, heat your favorite over high heat. Blend in the peanut oil and heat 1-2 minutes. Sprinkle in the garlic and ginger, stirring, and sauté 1-2 minutes. Finally, add Tatsoi and cook, stirring, to let the leaves wilt down a bit, about 3-4 minutes of cooking time.
Then add the previously reserved mushroom liquid and chopped mushrooms. Bring to a boil. Lower heat, cover the wok and simmer another 4-5 minutes.
Lastly, remove the cover, add your sauce ingredients and cook, stirring, until sauce thickens. Season with additional coconut aminos if needed. Serve hot.