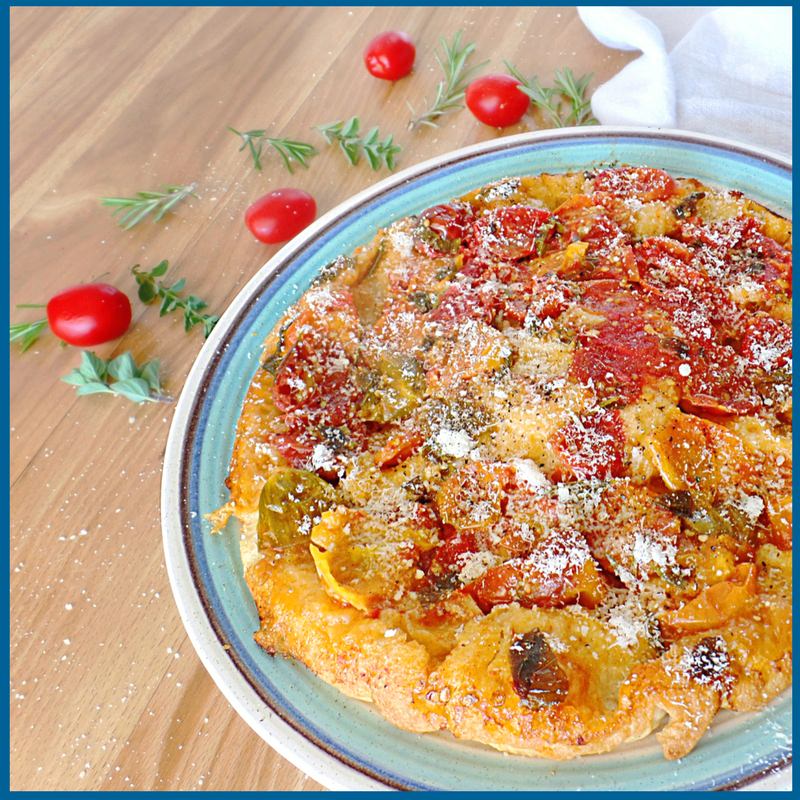 Tomato Herb Skillet Bread – Easy Upside Down Bread
Use fresh herbs and tomatoes to make this easy one pan Tomato Herb Skillet Bread (upside down bread). It's perfect for an appetizer, or you can serve it along side your favorite summer meal. Make it even easier on your self and use prepackaged dough such as pizza dough, biscuits, crescent rolls or puff pastry.
And if you don't want to heat the house, you can even bake it using indirect heat on your grill.
Tomato Herb Skillet Bread Ingredients
2 tablespoons olive oil
2-4 tablespoons fresh herbs (basil, oregano, parsley, rosemary, cilantro, etc.)
2-3 cups tomatoes
1 package dough (pizza dough, biscuits, crescent rolls, puff pastry, etc.)
Parmesan cheese, additional chopped fresh herbs, salt and pepper to taste
Directions
Preheat oven to 375 (or temperature required for the dough).
In a cast iron skillet or other oven proof skillet, heat olive oil over medium. Coat bottom and sides of the pan with oil.
Chop herbs.
Cut larger tomatoes into large pieces; cherry tomatoes can be cut in half.
Add tomatoes and herbs to skillet and cook until soft. 3-5 minutes. Top with dough.
Put in preheated oven and bake until dough is cooked (time will vary, about 15-20 minutes).
Loosen the edges. Using a serving plate place it on top of the skillet and invert the bread on to the plate.
Sprinkle with cheese, herbs, salt, and pepper. Slice into wedges and serve.
---
The renowned chef Audrey Humaciu created this recipe for Harvest2U.
Audrey is the Editor in Chef at That Recipe and VP of Creativity and Sarcasm at Munofore. When she's not blogging about her eclectic interests from cooking and crafting to ornamental horticulture and the idiosyncrasies of the American language, she's just your typical 40 something mom livin' the life in the California burbs… without the minivan and over priced coffee.
Like Recipe Videos? Check out our Weekly Video Recipe Series. Recipe Videos
Always use organic fruits and vegetables in these recipes. Local source: Harvest2U, a Temecula Organic produce company.