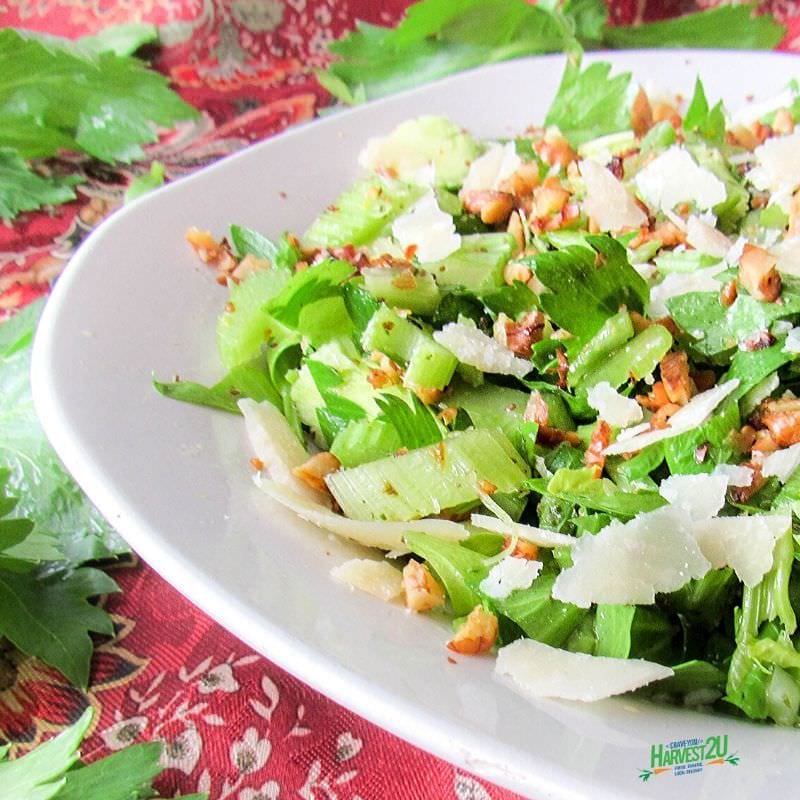 Walnut Celery Salad – Healthy and flavor-filled
Walnut Celery Salad is a crunchy flavor-filled way to get plenty of fiber, antioxidants, and other nutrients your body craves.
In this recipe, you want to add the celery leaves as well as the stalks. The leaves are a good source of vitamins A, C, and K, plus folate and potassium. The stalks will provide plenty of fiber, so be sure to cut the slices thin to make those long strings easier to digest. And of course, you get more vitamin C from the lemon and zest and healthy omega 3s from the walnuts.
This salad is better if you let it sit a little before serving. The salt and lemon juice in the first step draw out some of the water, enhancing the celery taste. Allowing the dressing to sit softens the celery seeds and gives all of the flavors a chance to blend.
Walnut Celery Salad Ingredients
5-6 cups celery with leaves, thinly sliced
1 tablespoon fresh lemon juice
pinch kosher salt
1/2 cup extra virgin olive oil
1/4 cup fresh lemon juice
1 tablespoon Worcestershire sauce
1 teaspoon lemon zest (See Lea's tip in the comments below)
1 teaspoon celery seed
1/2 teaspoon celery salt
2/3 cup walnuts, chopped
4 ounces Parmesan cheese, grated with a vegetable peeler
Directions
Thinly chop celery, place in a bowl, and toss with 1 tablespoon lemon juice and a pinch of salt. Set aside for at least 20 minutes.
In a small bowl, combine olive oil, lemon juice, Worcestershire sauce, lemon zest, celery seed, and celery salt. Set aside.
Toast walnuts in a small skillet over medium heat for a few minutes.
Pour dressing over celery, top with walnuts, and Parmesan cheese just before serving.
FREE Weekly Video Recipe Series
Sign-up for our 30-second (all under a minute) video recipe series is designed to provide you with an easy way to use Harvest2U's locally grown organic produce.