The founders of Harvest2U saw a need in our community to provide families with an alternative to the high-priced organic produce sold in grocery stores, and to offer a solution for those wanting to buy from local farmers. So, Harvest2U was created to conveniently bring quality locally grown produce to your family at a competitive price.
At Harvest2U our Purpose is to bring people goodness, promoting health and happiness.
Our Mission is simple - to efficiently provide your family with competitively priced, high quality, locally grown fresh fruits and vegetables while we give back to our community.
By working cooperatively with multiple local farmers, Harvest2U combines the best each farmer has to offer. Thus ensuring you the best quality and the largest variety of locally grown organic and naturally grown produce.
From farm to family, our entire menu of locally grown produce is picked daily for guaranteed freshness and then delivered directly to your door, or a convenient pickup location.
Farm to you. Picked Today.
We work very closely with each of our Partner Farms and we regularly inspect to assure they meet our demanding standards. We guarantee fresh, nutrient-dense produce in each and every Harvest.
Bringing goodness to families... because goodness matters. Every item included in your Harvest delivery is selected by both us and our Partner Farmers and then hand-picked within 36 hours of your delivery. You can't get much fresher than that!
At Harvest2U we believe in "Eco-Friendly" eating. We believe in supporting our local community and those local growers within our community. Our focus assures you that every item we offer is locally grown in ecologically friendly soil conditions and by farmers who share our concern for our environment and the customers we serve. Remember, local growing not only provides you with greater convenience but also the satisfaction of knowing that you're purchasing farm fresh fruits, vegetables and produce that have not been shipped a long distance sacrificing freshness and wasting time and valuable energy. Locally grown and fresh picked means fresher, more nutrient-dense produce for your family.
We invite you to partner with us and together we can support our local farmers. 
We guarantee your complete satisfaction or your money back!
And remember, that a portion of every purchase will be used to nourish the less fortunate families in your local community through our Harvest to the Hungry program.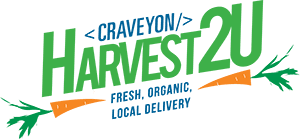 Sign Up For Harvest2U Insider Offers and More