Harvests - ORGANIC FRUITS AND VEGETABLES
At Harvest 2U, we're dedicated to offering a wide variety of farm fresh organic fruits and vegetables which provide the most refreshing taste, greatest nourishment at the highest value.
We support our local community and those local farmers within our community. Harvest2U's concept guarantees you that every produce item is grown locally in ecologically managed soils and by farmers who share our concern for the environment and the customers we serve. Local growing provides you with not only greater convenience but also the satisfaction of knowing that you're purchasing farm fresh organic fruits and vegetables. Locally grown and fresh picked means fresher produce for your family.
Add Artisan Products as a one-time purchase or to your subscription by clicking on the desired tab below.
Visit our sister a company Craveyon CloudWines for great wines at an affordable wine subscription price - A Flexible, Crowdsourced, and Affordable Wine Club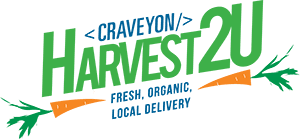 Sign Up For Harvest2U Insider Offers and More