Temecula Organic Produce To Your Door
We deliver locally grown fresh organic fruits & vegetables.
Thank you so much for my box. My previous CSA closed, and I was looking for a new service. Just got my first box from Harvest2U last Thursday, and it…
Read More
- How We Save You Time and Help Keep You Healthy
-
Let Us Save You Time and Keep Your Family Healthy Delivering Organic Produce To Your Door
Harvest2U,  a Temecula Organic CSA, delivers to most zip codes in Southwest Riverside County and North County San Diego.  Entering your delivery zip code will determine whether delivery is available in your area.
Select Your Size and Type
Don't like beets?  No problem!  You can customize your harvest subscription. Or you can select our economical Farmer's Choice and let us select your fruits and vegetables for you.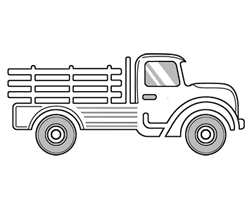 Get Your Harvest
Save Time
We come to you! Harvest2U, a Temecula Organic Produce company, conveniently delivers your freshly picked local organic produce right to your front door, saving you time and keeping your family healthy
Spicy Cilantro Quickles are an easy way to make your own pickles in just a few minutes without canning them. Also known as quick pickles or refrigerator pickles, this method…
Read More
Shrimp and Okra Sheet Pan Meal is a flavorful one-pan meal that only takes about 30 minutes to make. Simple vegetables like okra, onions, peppers, and tomatoes are broiled together…
Read More
This straightforward Sautéed Garlic Okra recipe can quickly become a favorite way to cook okra. It cooks up pleasingly and is not slimy; the grape or cherry tomatoes are a…
Read More
These gluten-free zucchini brownies are also egg-free and dairy-free. For best results, make sure your gluten-free flour has guar gum or xanthan gum in it (or add ¾ teaspoon). Or…
Read More
Lemony Basil Radish Salad is a simple flavor packed salad made without lettuce. Crunchy radish slices, peppery basil, grated Parmesan cheese, and a simple lemon oil vinaigrette combine together for…
Read More
Stuffed Patty Pan Squash is a fun way to start your day with a serving of vegetables. Or you can serve it for brunch, lunch, or even dinner. No matter…
Read More
Salade Nicoise is a classic French salad from the Nice region that makes a beautiful presentation and is a delicious summer dish. It is perfect for a luncheon or dinner…
Read More
Spinach Ravioli made the easy way, ready in about 30 minutes. The dough is a simple but flavorful filling with spinach and mushrooms wrapped up in pre-made wonton wrappers. Spinach…
Read More
Spicy Korean Cucumber Salad is a bright red and green salad of cucumbers and green onions with a spicy-sweet sesame dressing. This salad takes a little bit of prep time…
Read More
Uborkasalata translates literally as Dairy-Free Cucumber Salad in Hungarian. My mother-in-law serves this simple side dish at almost every holiday meal. I think it is best on a hot summer…
Read More
Cucumber Sushi Rolls are a healthy, easy, no-cook meal perfect for using up leftovers on a hot summer night. I am a huge fan of cooking once eat twice meals,…
Read More
Creamy Green Onion Dressing is great on salads or as a dip for vegetables or chips. It is amazing on potato salad. Green onions, or scallions, give you some nutritional…
Read More
Zucchini Nut Muffins are a healthy way to start your day with plenty of protein and vegetables packed in. In addition, it's great for a nutritious breakfast on the go. …
Read More
Zucchini Saute is a deliciously easy way to prepare zucchini that is ready in about 15 minutes. Perfect for those too hot to cook summer nights. And it is easy…
Read More
Berry Beet Juice is a healthy blend of vegetables with a little sweetness from the fruit. No sugar or other sweeteners are needed. And you don't need a juicer either!…
Read More
Sign Up For Harvest2U Insider Education, Offers and More