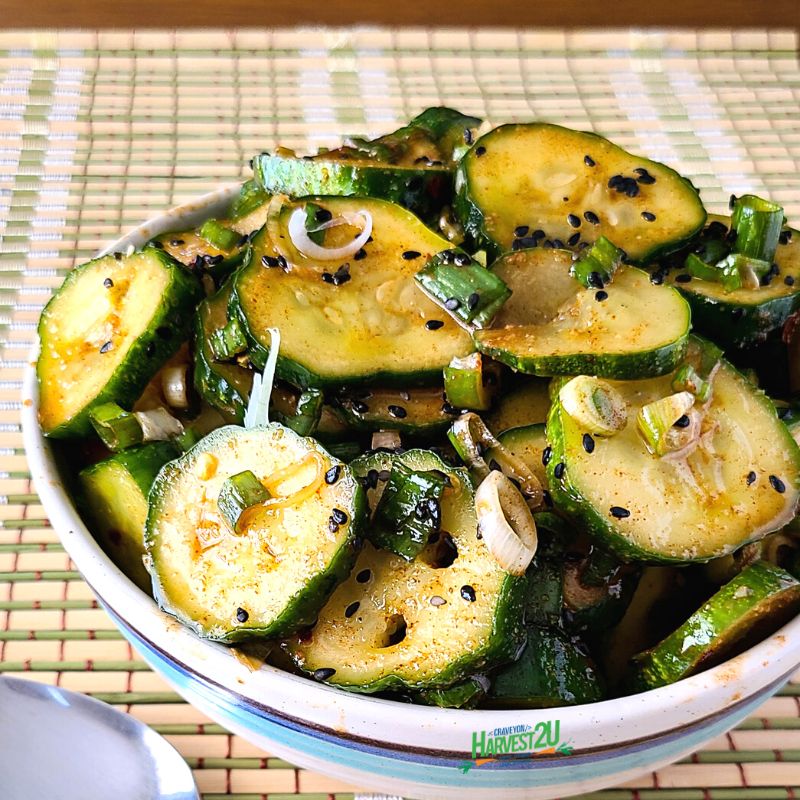 Spicy Korean Cucumber Salad
Spicy Korean Cucumber Salad is a bright red and green salad of cucumbers and green onions with a spicy-sweet sesame dressing.
This salad takes a little bit of prep time because you want to salt the cucumbers and let them sit for 30 minutes to draw out some of the water thereby increasing the cucumber flavor.
Key Ingredients and Substitutes for Spicy Korean Cucumber Salad
You can use any type of cucumber you want. However, it does work best with cucumbers that do not have a lot of seeds which tend to be extra watery.
Use scallions or green onions, whichever you have on hand. Scallions are a bit more traditional since they have a smaller bulb. But the difference is minimal in my opinion.
Sesame oil and rice vinegar (Korean red pepper) can be found in the Asian section of most grocery stores.
Gochugaru (Korean Red Pepper) is a bright red pepper that is dried and ground into a powder. It can be found in the Asian aisle or the spice aisle of some grocery stores. You can also find it in all Asian markets.
Substitutes will not be exact since you want to add enough to give this dish a distinctive red color without overpowering it with heat. I used a combination of 1 teaspoon paprika, 1 teaspoon chipotle powder, and about 1/4 teaspoon red pepper flakes to come as close as I could.
Spicy Korean Cucumber Salad Ingredients
2-3 medium cucumbers, sliced 1/8 inch thin
1 teaspoon salt
1-2 scallions or green onions cut thinly on a diagonal
1 medium clove garlic minced
1 teaspoon sesame oil
1 teaspoon rice vinegar
1 teaspoon honey
1 teaspoon sesame seeds
1 tablespoon Korean red pepper (gochugaru) see the note above for a substitute.
Direction
Slice cucumbers and place in a bowl.
Add salt and mix to coat.
Let sit for 30 minutes to draw out some of the water.
Rinse thoroughly and drain a few times.
Add drained cucumbers and all remaining ingredients except the gochugaru to the bowl.
Add half of the gochugaru (or substitute) mix together and taste. Add more if desired.
Always use organic fruits and vegetables in your recipes.
Do you live in one of these Southern California Cities? Aguanga, Fallbrook, Hemet, Homeland, Lake Elsinore, Menifee, Murrieta, Temecula, Wildomar, or Winchester.  If you do, you can use the local organic fruits and vegetables in our harvest deliveries for these recipes.
Resources and Recipes