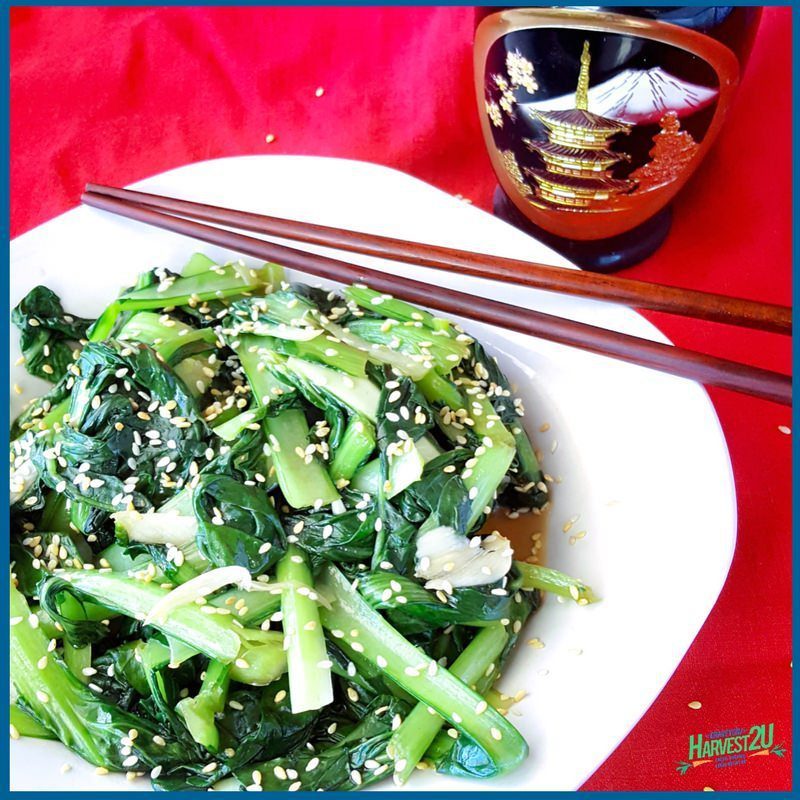 Stir Fried Sesame Tatsoi – A Mild Asian Green
Tatsoi is similar to Bok Choi, a mild Asian green. Unlike greens like kale and collard greens, the center stem softens as it cooks and does not need to be removed. This green is packed with a ton of nutrients, including carotenoids, vitamin C, folate, calcium, and potassium.  Other names are spinach mustard, spoon mustard, rosette bok choy, Japanese spinach.
This simple stir fry cooks up in less than 10 minutes. Toss in some thinly sliced chicken or beef for a meal, or serve it as a side dish along with your favorite Asian dishes.
Stir Fried Sesame Tatsoi Ingredients
Directions
Chop root ends off from tatsoi and wash leaves and stems thoroughly.
In a large skillet, cook one tablespoon sesame oil and garlic over medium heat until fragrant, about 2-3 minutes.
Add the greens and cook for about 5 minutes until leaves are wilted, and stems are beginning to soften.
Add oyster sauce (or hoisin) and continue cooking until liquid has cooked off.
Sprinkle with toasted sesame seeds and serve.
See other similar recipes »
---
The chef Audrey Humaciu created this recipe for Harvest2U.
Audrey is the Editor in Chef at That Recipe and VP of Creativity and Sarcasm at Munofore. When she's not blogging about her eclectic interests from cooking and crafting to ornamental horticulture and the idiosyncrasies of the American language, she's just your typical 40 something mom livin' the life in the California burbs… without the minivan and overpriced coffee.
Like Recipe Videos? Check out our Weekly Video Recipe Series. Recipe Videos
Always use organic fruits and vegetables in these recipes. Local source: Harvest2U, a Temecula Organic produce company.