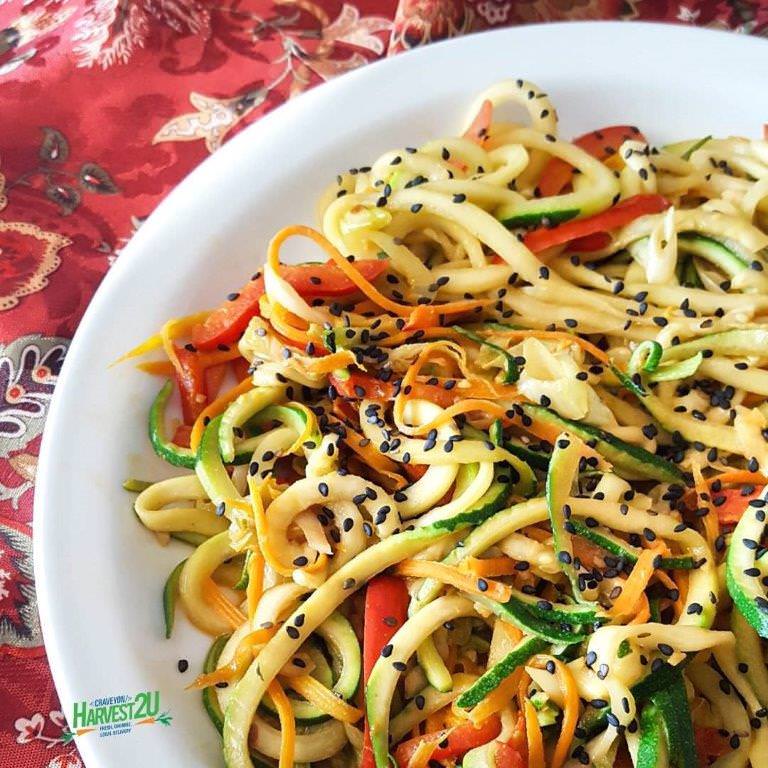 Garlic Sesame Zoodles – A Quick and Easy Side Dish
Garlic Sesame Zoodles is a quick and easy side dish that could also be a light lunch or dinner with your favorite protein added to it. A healthy dish in about 10 minutes.
Zucchini noodles are a fun way to serve summer squash. You just need a spiralizer to cut the squash into long noodle like strips then they can be swapped for pasta in your favorite dishes. All summer squashes are low in calories and high in water content. Plus they contain vitamins C, A and B6 plus minerals like potassium and manganese.
Besides the squash, this recipe gets added nutrition from carrots (beta carotene for healthy eyes), red bell peppers (lycopene for heart health) and scallions (allicin for cancer prevention) plus garlic and tahini for plenty of color and flavor.
Garlic Sesame Zoodles Ingredients
1 tablespoon olive oil
2-3 cloves garlic, finely chopped
2-3 scallions, cut on a diagonal
1 medium red bell pepper, cut in long thin strips
2 medium carrots, cut into matchsticks
2 medium/large zucchini (or other long summer squash like cousa) spiralized using the medium setting
pinch red pepper flakes (to taste)
2 tablespoons tahini
2 tablespoons low sodium soy sauce (tamari)
sesame seeds for serving
Directions
This recipe cooks quickly, so you want to have all of the vegetables cut and other ingredients ready to go.
Heat olive oil in a large skillet over medium high heat.
Add garlic and sauté for 1 minute. Add scallions and cook another minute.
Stir in bell pepper, carrots and red pepper flakes and cook another minute or two until vegetables begin to soften.
Add spiralized zucchini, tahini and soy sauce. Stir to combine, then cook until vegetables reach desired softness (about 3-5 minutes if you like them softened but still crunchy).
Sprinkle with sesame seeds and serve.