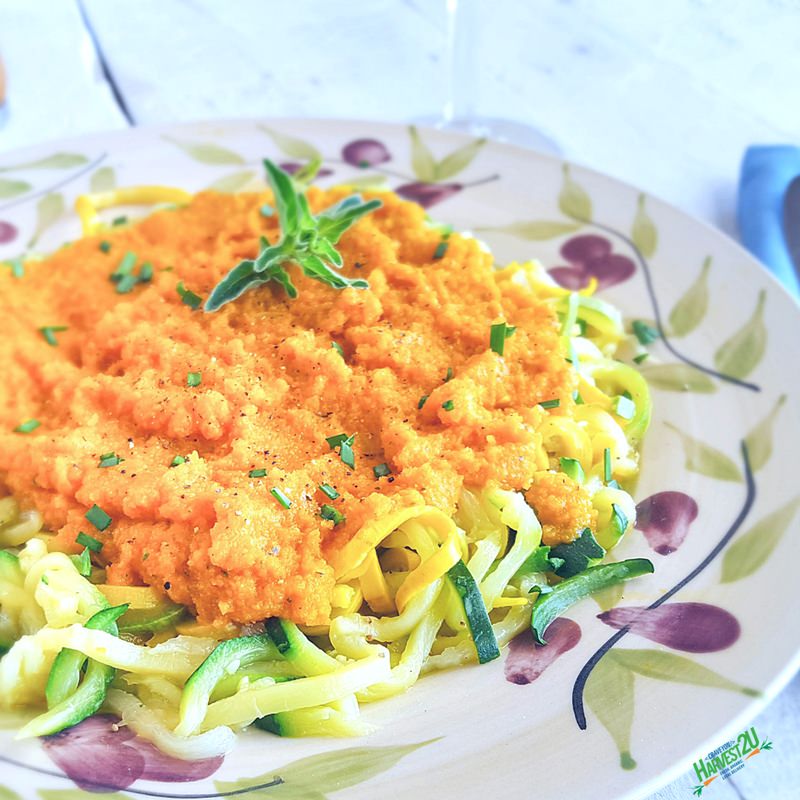 Roasted Carrot Marinara – Loaded With Beta-Carotene
This Roasted Carrot Marinara is a twist on traditional tomato-based pasta sauce and great use of Harvest2U's organic carrots. Perfect for those that don't like tomatoes (like my 10-year-old!). If you make it a little thicker, it also makes a tasty dip for vegetables, crackers or chips.
Roasting the carrots, onions, and garlic makes them sweeter, but this is still a savory sauce. And it is loaded with beta-carotene which helps with heart health, vision, and cancer prevention. GO carrots!
Roasted Carrot Marinara Ingredients
1 pound carrots
1 medium onion
3-4 cloves garlic
1 tablespoon olive oil
3 tablespoons fresh herbs (such as parsley, basil, oregano, etc.)
1/4 teaspoon red pepper flakes (optional)
1 cup chicken or vegetable broth (approximately)
salt and pepper to taste
Directions
Preheat onion to 400 degrees.
Peel then chop the carrots into large pieces.
Peel and cut the onions into 6-8 large wedges.
Combine carrots, onions, garlic, and olive oil in a bowl.
Spread vegetables on a rimmed baking sheet and roast until vegetables are tender and starting to brown.
Combine roasted vegetables, herbs, and pepper flakes in a food processor. Pulse until chopped. With the food processor running, thin with about 1/2 cup of broth. Let the processor run 2-3 minutes. Scrape down sides and add additional broth to thin to desired consistency. Add salt and pepper to taste.
Serve over your favorite pasta.