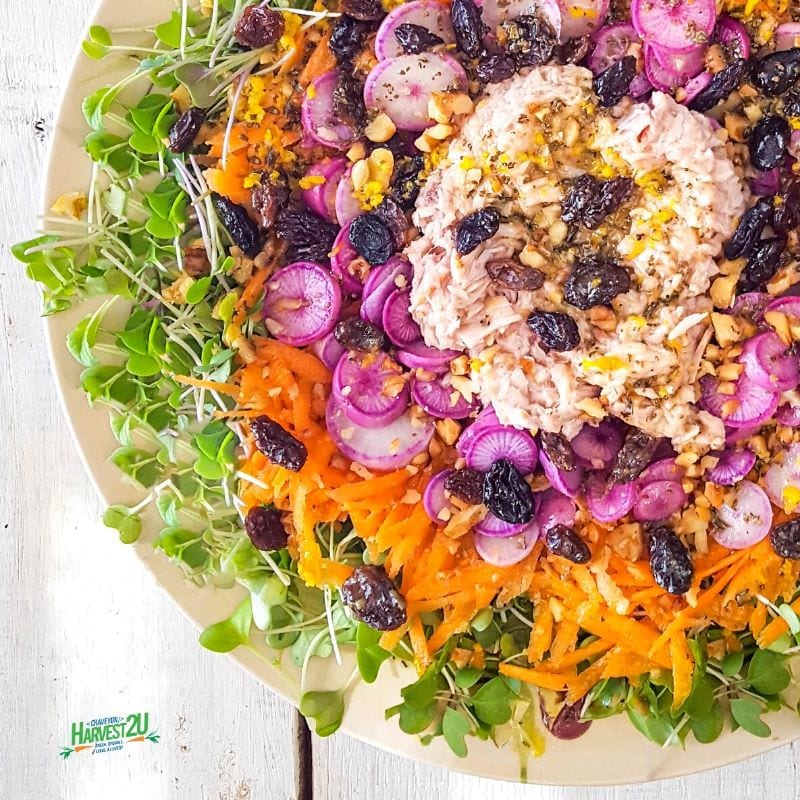 Microgreens and Tuna Salad – Nutrient Rich
This Microgreens and Tuna Salad is topped with an easy homemade Lemon Thyme Dressing for a delicious meal when you don't feel like heating the house.
Microgreens are seedlings that are harvested once they get their first true leaves, about 2-3 weeks. Many microgreens have more vitamins and minerals than their mature plant counterpart. They taste like a milder version of the adult plant.
Instead of adding microgreens to lettuce or other greens, this salad features them as one of the main ingredients. I used kohlrabi greens but use your favorite variety. Carrots and radishes add some bright colors (and antioxidants as well). The tuna and walnuts add protein and healthy Omega-3 fatty acids.
Microgreens and Tuna Salad Ingredients
Lemon Thyme Dressing
1-2 lemons
1 tablespoon white wine or apple cider vinegar
1 tablespoon honey
1 teaspoon dried thyme
1/2 teaspoon celery seed
1/2 cup extra virgin olive oil
The Microgreens Salad
4-6 cups microgreens
6 ounces tuna (canned or fresh cooked)
2 carrots, grated
1 bunch radishes, thinly sliced
1/4 cup chopped walnuts
1/4 cup raisins or dried cranberries
Directions
Zest one lemon and juice the lemons.
Add to a 1 cup jar with the rest of the dressing ingredients. Close the lid and shake until blended.
Place salad ingredients into a salad bowl. Add 1/2 of the dressing and toss.
Add as much of the remaining dressing as desired.
For a pretty Microgreens and Tuna Salad presentation: place microgreens in a single layer on a large plate, sprinkle carrots in a circle around the edge, spread the radish slices in a circle inside the carrot circle, add the tuna to the center, sprinkle the nuts and raisins on top and drizzle with dressing.