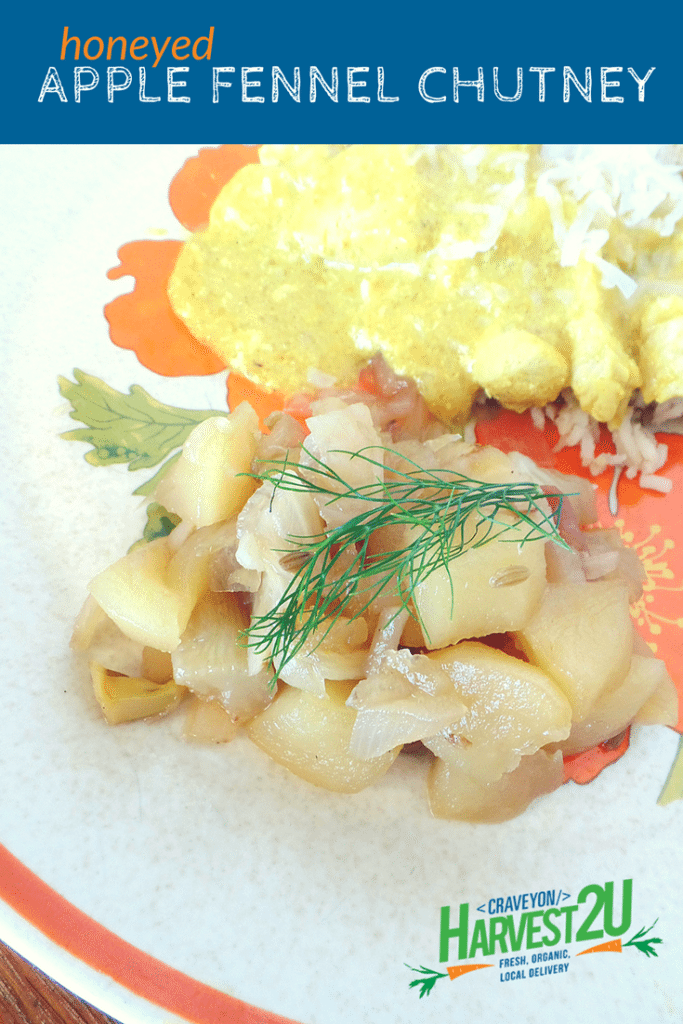 Apple Fennel Chutney – Honeyed
This easy honeyed apple fennel chutney combines the sweetness of apples and honey and tang of vinegar with some onions and fennel to make a wonderful side dish for curry, chicken or pork. While this dish is great fresh, its even better after the flavors have had a chance to develop for a few hours (or days).
Apple Fennel Chutney Ingredients
1 tablespoon Olivum Reserve Temecula Olive Oil
3 cups organic fennel bulb (white part only without the hard core, chopped)
1 medium organic onion (about 1 cup chopped)
3 cups organic apple (peeled, cored and chopped)
1 teaspoon fennel seed
1 cup apple cider vinegar
1/2 cup Harvest2U local honey
1/2 cup sugar
Directions
Starting with your favorite skillet, heat one tablespoon olive oil over medium heat. Saute chopped fennel for 2 minutes. Then add chopped onions and cook until onions begin to turn translucent, about 5 minutes.
And then toss in your chopped apple and fennel seeds, cook for 2 more minutes.
Next, add vinegar, honey and sugar. Finally, cook until apples are very soft and liquid has thickened to a light syrup.
When finished, serve immediately or allow flavors to blend overnight (or longer) in the refrigerator.
Like Recipe Videos? Check out our Weekly Video Recipe Series. Recipe Videos
Always use organic fruits and vegetables in these recipes. Local source: Harvest2U, a Temecula Organic produce company
---
This recipe was created for Harvest2U by the renowned chief Audrey Humaciu.
Audrey is the Editor in Chef at That Recipe and VP of Creativity and Sarcasm at Munofore. When she's not blogging about her eclectic interests from cooking and crafting to ornamental horticulture and the idiosyncrasies of the American language, she's just your typical 40 something mom livin' the life in the California burbs… without the minivan and over priced coffee.