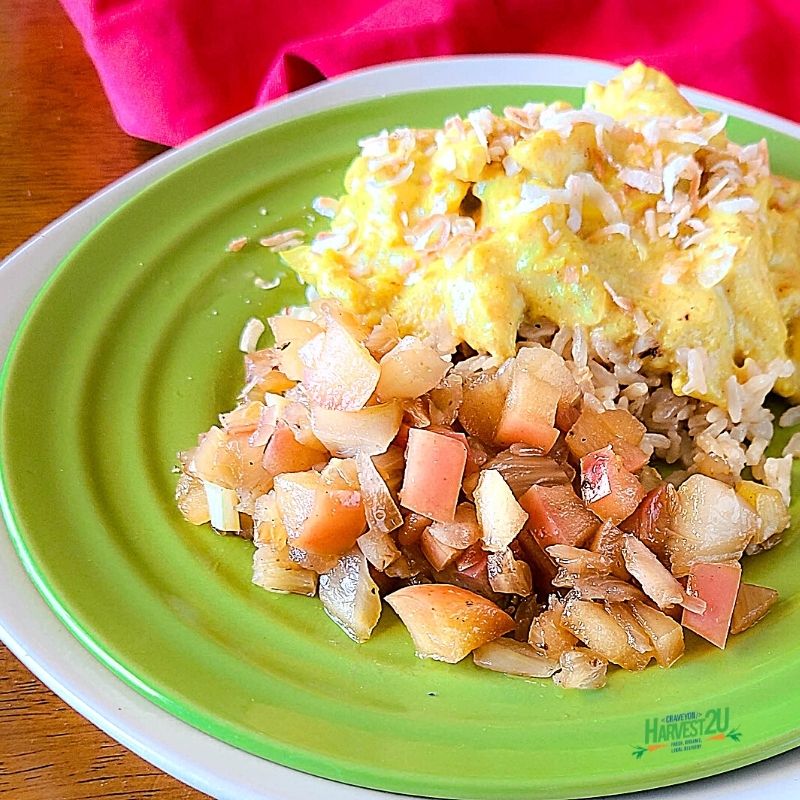 Honey Apple Fennel Chutney – a Sweet and Sour Condiment
Honeyed Apple Fennel Chutney is a sweet and sour condiment or side dish to wake up a boring meal.
The word chutney is derived from the Hindi word chāṭnā meaning 'to lick' or 'to eat with appetite'. It refers to a wide selection of condiments served with dishes from the Indian Subcontinent.

This version combines the sweetness of apples and honey and the tang of vinegar with some onions and fennel for a combination of savory, sweet and sour flavors all in one bite making it an excellent accompaniment for a variety of dishes.

While it is excellent fresh, it's even better after the flavors have had a chance to develop for a few hours (or days).
How To Use Chutney
If you've never had chutney before you may be wondering how to serve it. Here are a few suggestions:
An excellent topping for turkey or pork.
Combine with winter squash or sweet potatoes before roasting.
Serve with curry dishes. (here's the easy curry recipe used in the photos)
Mix into plain yogurt as a dip or snack.
Use as a condiment for chicken, turkey, or veggie burgers.
Serve with sweet potato dishes.
Serve with a cheese tray or charcuterie board. 
Purée and mix into meatloaf.
Purée and use instead of ketchup.
Use as a topping for whole-grain pancakes or waffles.
Apple Fennel Chutney Ingredients
1 tablespoon Olive Oil
3 cups organic fennel bulb (white part only without the hard core, chopped fine)
1 medium organic onion (about 1 cup, chopped fine)
3 cups organic apple (cored and chopped fine)
1 teaspoon fennel seed. crushed
1 cup apple cider vinegar
1/2 cup local honey
Directions
Heat olive oil in a skillet over medium heat. Add chopped fennel bulb and sauté for 2 minutes.
Add chopped onions and cook until onions begin to turn translucent, about 5 minutes.
Add chopped apple and fennel seeds, cook for 2 more minutes.
Add vinegar and honey. Simmer until apples are very soft and liquid has thickened to a light syrup.
When finished, serve immediately or allow flavors to blend overnight (or longer) in the refrigerator.
Always use organic fruits and vegetables in your recipes.
Do you live in one of these Southern California Cities? Aguanga, Fallbrook, Hemet, Homeland, Lake Elsinore, Menifee, Murrieta, Temecula, Wildomar, or Winchester.  If you do, you can use the local organic fruits and vegetables in our harvest deliveries for these recipes.
Resources and Recipes