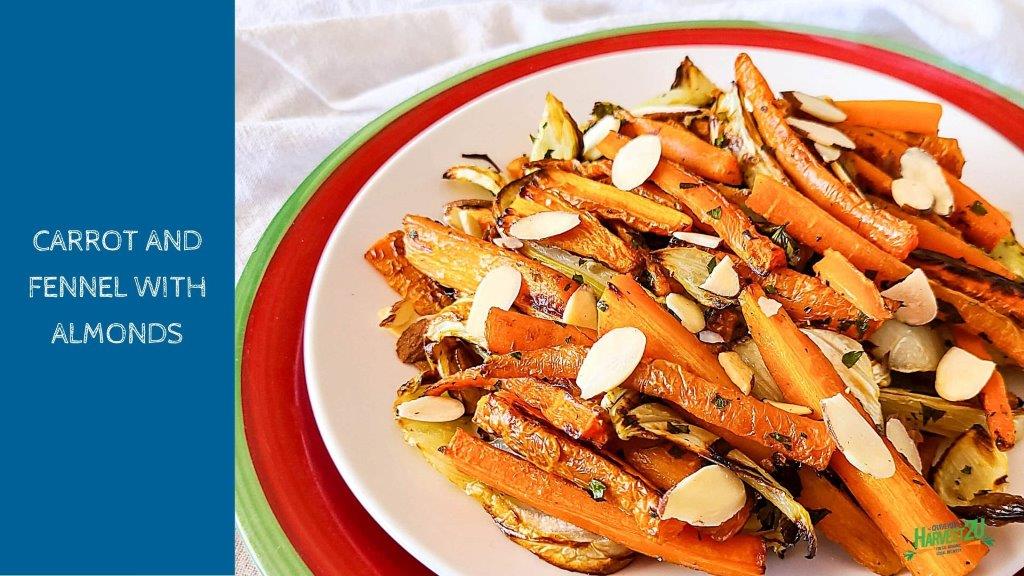 Carrots and Fennel with Almonds
Carrots and Fennel are roasted in the oven, highlighting their natural flavor and sweetness. A great accompaniment for any dinner.
Like celery, fennel is filling and yet surprisingly low in calories. One cup of fennel is only 27 calories. Fennel offers potassium, vitamin C, and small amounts of folate.
Carrots and Fennel Ingredients
1 pound carrots
1 fennel bulb
1-2 tablespoons olive oil
2-3 tablespoons fresh herbs, chopped (fennel fronds, parsley, chives, etc.)
salt and pepper to taste 1/4 cup toasted sliced almonds
Directions
Preheat oven to 400 degrees F.
Cut carrots in half lengthwise then slice into quarters or sixths depending on thickness.
Cut the fennel bulb in half, remove the core, and slice into 1/2 inch slices.
Place carrot sticks and fennel into a bowl. Add olive oil, herbs and salt, and pepper. Stir to coat.
Spread in an even layer on a sheet pan.
Roast until cooked
Add toasted almonds and serve.