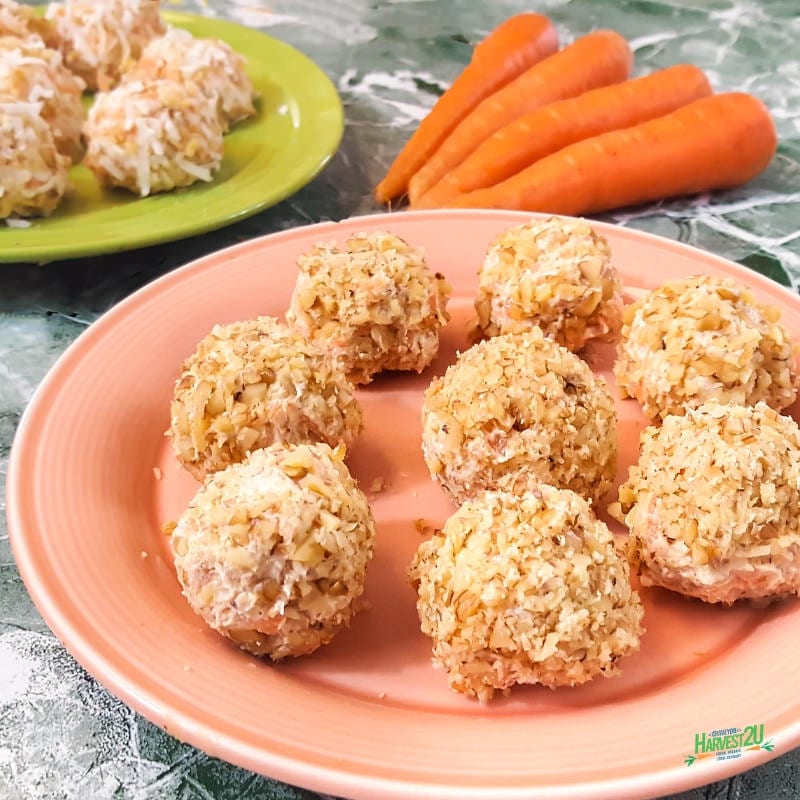 Carrot Balls – Low Carb Sweet or Spicy
These low carb carrot balls are delicious, and a little-bit-different way of serving carrots that can be a bit boring, at times! These Carrot Balls are perfect as a dessert or a savory snack, depending on the spices you add. They whip up in just a few minutes for a tasty treat.
Carrots are a great source of beta-carotene (which promotes eye health), B-vitamins (for metabolizing food), vitamin K (for blood coagulation and bone health), and fiber.
9% of your daily vitamin K

73% of your daily requirement of vitamin A

8% of your daily potassium and fiber

2% of your daily calcium and iron

5% of your daily vitamin C
Low Carb Carrot Balls Ingredients
For Both Sweet or Spicy Carrot Balls Versions
8 ounces cream cheese
1 cup grated carrots
Sweet Carrot Balls Version
1/2 cup unsweetened coconut flour
1 teaspoon cinnamon
1 teaspoon stevia
1/4 teaspoon nutmeg
1/4 cup sweetened coconut (for rolling)
1/4 cup pecans, chopped (for rolling)
Savory Carrot Balls Version
1/2 cup almond meal
1 teaspoon garlic
1/4 teaspoon cayenne
1/2 cup chopped nuts such as walnuts, pecans, almonds (for rolling)
Directions
In a medium bowl, combine cream cheese, grated carrots, coconut flour/almond meal, and spices.
Shape into 16 balls and roll in the toppings.