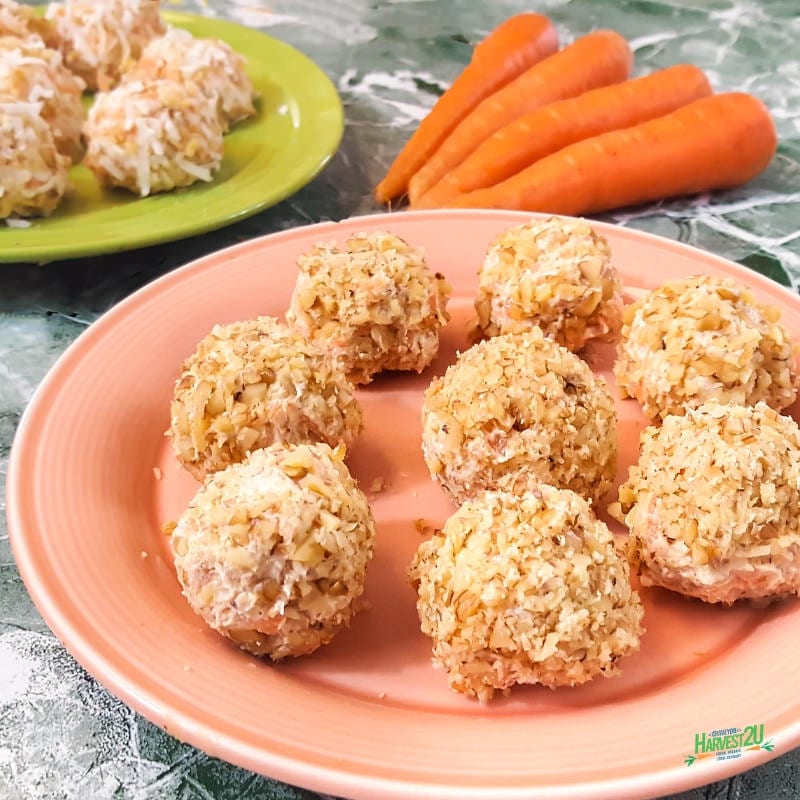 Low Carb Carrot Balls – Sweet or Spicy
These Low Carb Carrot Balls are perfect as a dessert or a savory snack depending on the spices you add. They whip up in just a few minutes for a tasty treat.
Carrots are a great source of beta-carotene (which promotes eye health), B-vitamins (for metabolizing food), vitamin K (for blood coagulation and bone health) and fiber.
Low Carb Carrot Balls Ingredients
For Both Sweet or Spicy Versions
8 ounces cream cheese
1 cup grated carrots
Sweet Version
1/2 cup unsweetened coconut flour
1 teaspoon cinnamon
1 teaspoon stevia
1/4 teaspoon nutmeg
1/4 cup sweetened coconut (for rolling)
1/4 cup pecans, chopped (for rolling)
Savory Version
1/2 cup almond meal
1 teaspoon garlic
1/4 teaspoon cayenne
1/2 cup chopped nuts such as walnuts, pecans, almonds (for rolling)
Directions
In a medium bowl, combine cream cheese, grated carrots, coconut flour/almond meal, and spices.
Shape into 16 balls and roll in the toppings.
Always use organic fruits and vegetables in these recipes.
Do you live in one of these Southern California Cities? Aguanga, Fallbrook, Hemet, Homeland, Lake Elsinore, Menifee, Murrieta, Temecula, Wildomar, or Winchester.  If you do, you can use the local organic fruits and vegetables in our harvest deliveries for these recipes.
Other Great Recipes and Resources
---
 Audrey Humaciu created this recipe for Harvest2U
Audrey is the Editor in Chef at That Recipe and VP of Creativity and Sarcasm at Munofore. When she's not blogging about her eclectic interests from cooking and crafting to ornamental horticulture and the idiosyncrasies of the American language, she's just your typical 40 something mom livin' the life in the California burbs… without the minivan and overpriced coffee.
Like Recipe Videos? Check out our Weekly Video Recipe Series. Recipe Videos