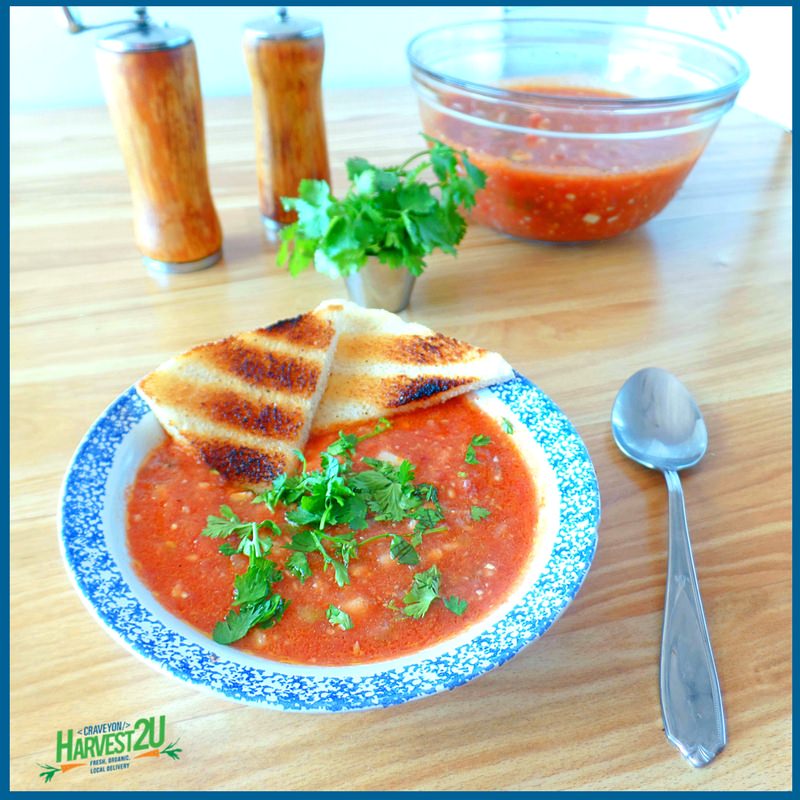 Easy No-Fuss Gazpacho – The Perfect Summer Soup
Gazpacho is the perfect summer soup, using fresh seasonal ingredients with no cooking required. Some recipes blanch the peel off the tomato and others puree each vegetable individually. Neither step is necessary, in my opinion.
Traditionally it is served with croutons or toast points (cut bread into triangles, butter, and toast).
No-Fuss Gazpacho Ingredients
24 ounces tomato juice
2 large tomatoes
1 cucumber
1 small onion (sweet onion or red onions are particularly good)
cucumber1 green bell pepper
1 medium zucchini
1/4 cup roasted red pepper (or chipotle if you want a smokey flavor)
1/3 cup red wine vinegar
1/4 cup olive oil
1 teaspoon smoked paprika
Pepper sauce, salt, and pepper to taste
Fresh herbs such as cilantro or basil for garnish
Directions
Remove blossom end of tomato and zucchini.
Peel and seed the cucumber.
Seed the bell pepper.
Finely chop about 1/4 of each of the vegetables and set aside.
In a blender or food processor, combine remaining vegetables with 1 cup tomato juice and red peppers. Pulse until vegetables are mostly chopped. Leave it a little chunky.
In a large bowl, combine pureed vegetables, reserved chopped vegetables, remaining tomato juice, vinegar, oil, and paprika.
Chill for at least one hour. Add pepper sauce, salt and, pepper to taste.
Serve with croutons and chopped herbs.