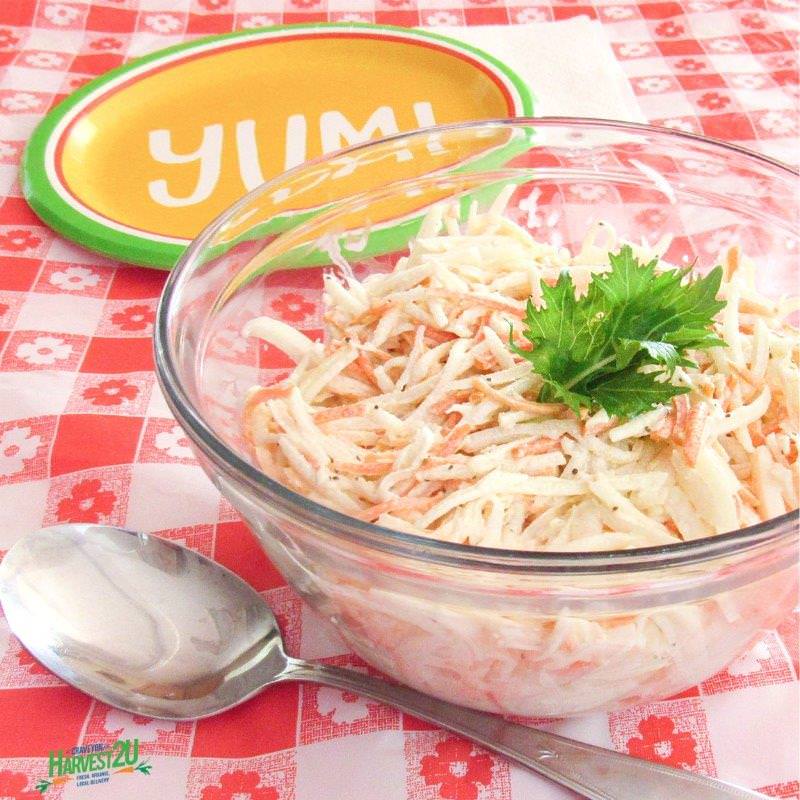 Keto Kohlrabi Coleslaw – A Low-Carb Alternative
This Keto Kohlrabi Coleslaw is a fabulous addition to your summer meals that everyone will enjoy.
Kohlrabi was selectively bred from cabbage to have a thicker stem so it could withstand colder climates. It is high in potassium (lower blood pressure), vitamin C (a powerful antioxidant), and phytonutrients like glucosinolates, (may have anti-cancer, anti-fungal, anti-parasitic and antibacterial benefits). It only has 36 calories and 2.6 net carbs per 100 grams.
The Kohlrabi gives it a bit more crunch, which I like. But feel free to use cabbage instead.
Keto Kohlrabi Coleslaw Ingredients
4 cups kohlrabi or cabbage, shredded
1/2 cup carrot, shredded
1/2 cup onion, thinly sliced (optional)
1/2 cup mayonnaise
2 tablespoons cream
1 tablespoon apple cider vinegar
1 teaspoon celery seeds
salt and pepper to taste
Directions
Shred kohlrabi and carrots.
Thinly slice onions.
In a large bowl, combine mayonnaise, cream, vinegar, and celery seeds. Add vegetables and stir to coat.
Refrigerate at least 1 hour before serving.
Add salt and pepper to taste just before serving.