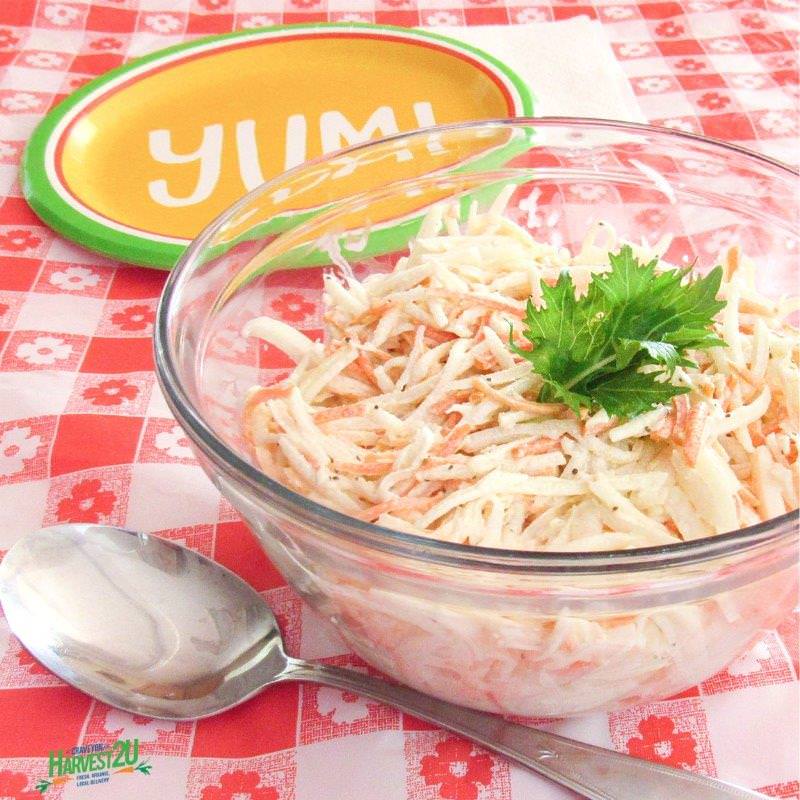 Keto Kohlrabi Coleslaw – A Low-Carb Alternative
This Keto Kohlrabi Coleslaw is a fabulous addition to your summer meals that everyone will enjoy.
Kohlrabi was selectively bred from cabbage to have a thicker stem so it could withstand colder climates. It is high in potassium (lower blood pressure), vitamin C (a powerful antioxidant), and phytonutrients like glucosinolates, (may have anti-cancer, anti-fungal, anti-parasitic and antibacterial benefits). It only has 36 calories and 2.6 net carbs per 100 grams.
The Kohlrabi gives it a bit more crunch, which I like. But feel free to use cabbage instead.
Keto Kohlrabi Coleslaw Ingredients
4 cups kohlrabi or cabbage, shredded
1/2 cup carrot, shredded
1/2 cup onion, thinly sliced (optional)
1/2 cup mayonnaise
2 tablespoons cream
1 tablespoon apple cider vinegar
1 teaspoon celery seeds
salt and pepper to taste
Directions
Shred kohlrabi and carrots.
Thinly slice onions.
In a large bowl, combine mayonnaise, cream, vinegar and celery seeds. Add vegetables and stir to coat.
Refrigerate at least 1 hour before serving.
Add salt and pepper to taste just before serving.
Always use organic fruits and vegetables in these recipes.
Do you live in one of these Southern California Cities? Aguanga, Fallbrook, Hemet, Homeland, Lake Elsinore, Menifee, Murrieta, Temecula, Wildomar, or Winchester.  If you do, you can use the local organic fruits and vegetables in our harvest deliveries for these recipes.
Other Great Recipes and Resources
---
 Audrey Humaciu created this recipe for Harvest2U
Audrey is the Editor in Chef at That Recipe and VP of Creativity and Sarcasm at Munofore. When she's not blogging about her eclectic interests from cooking and crafting to ornamental horticulture and the idiosyncrasies of the American language, she's just your typical 40 something mom livin' the life in the California burbs… without the minivan and overpriced coffee.
Like Recipe Videos? Check out our Weekly Video Recipe Series. Recipe Videos