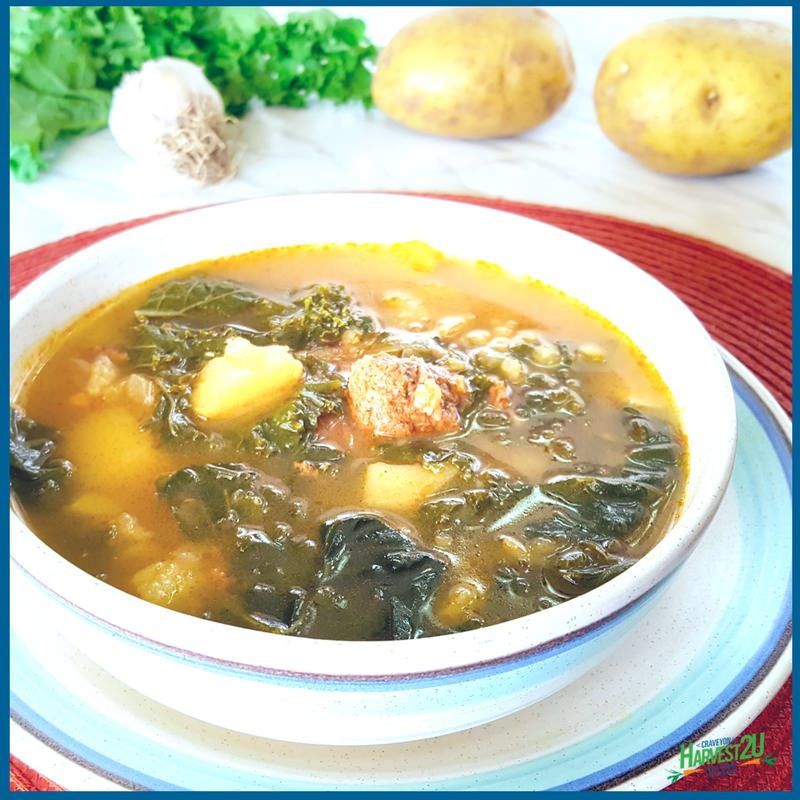 Caldo Verde - Potato and Kale Soup
Caldo Verde – Potato and Kale (or Favorite Greens) Soup
Caldo Verde translates to green soup in Portuguese. You can use your favorite organic greens in this, even though it is traditionally made with kale or collard greens.
Organic Russet Potatoes work best in soups to thicken them, whereas waxier potatoes like Yukon Gold will give you excellent looking chunks. If you have them, use some of each for a thicker soup with pieces of potato.
And then there is the sausage. It is a Portuguese soup, so use linguica if you can find it. Otherwise, spicy Italian sausage, chorizo, or longaniza will work. All should be together in the same spot at the meat counter.
Caldo Verde Ingredients
1 tablespoon olive oil
1 medium onion, diced
4-6 cloves garlic, thinly sliced (or minced)
1 pound of organic russet potatoes (or half russet and half Yukon gold) peeled and cut into 1/2 inch cubes
6 cups chicken broth
1 bunch kale, center stems removed, finely chopped
12-16 ounces cooked linguica (or Italian sausage or chorizo)
Salt and pepper to taste
Directions
In a dutch oven or stockpot, lightly heat olive oil.
Add onions and garlic and saute a few minutes until translucent.
Add broth and potatoes to a boil. Reduce heat to simmer and add kale.
Cook potatoes until soft, about 20 minutes.
Mash potatoes.
Add cooked sausage and cook for a few more minutes.
Add salt and pepper as needed and serve.
Click here for more soup recipes »
Always use organic fruits and vegetables in your recipes.
Do you live in one of these Southern California Cities? Aguanga, Fallbrook, Hemet, Homeland, Lake Elsinore, Menifee, Murrieta, Temecula, Wildomar, or Winchester.  If you do, you can use the local organic fruits and vegetables in our harvest deliveries for these recipes.
Resources and Recipes