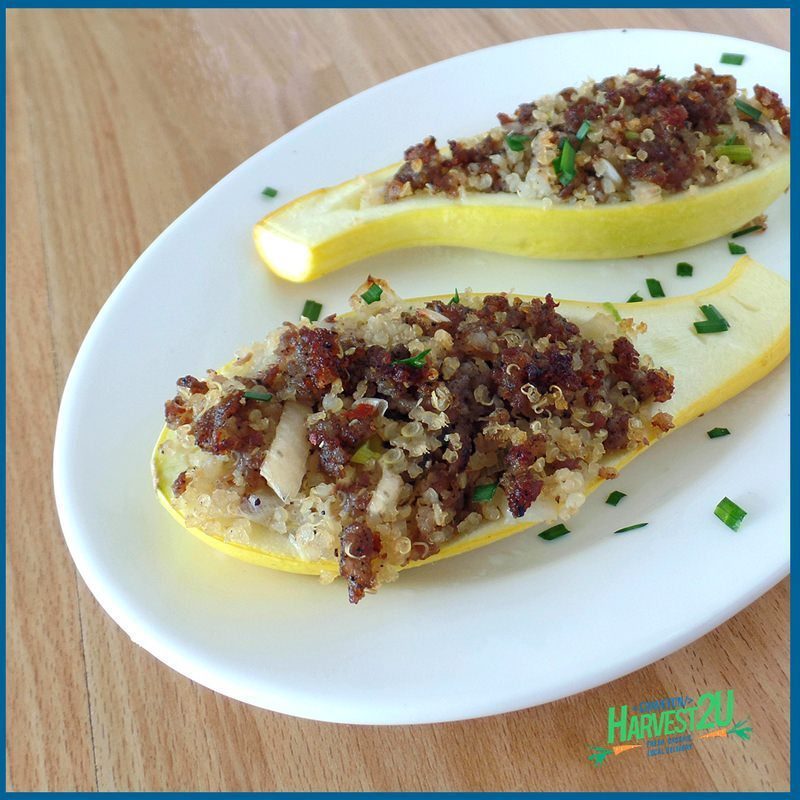 Stuffed Squash with Quinoa and Sausage – Nutritionally Packed
Summer stuffed squash is a rich source of Vitamin A and C, magnesium, fiber, folate, riboflavin, phosphorus, potassium, and Vitamin B6. This quick and easy filling uses quinoa as a binder. You can make extra quinoa the night before for this recipe or cook it up while you are preparing the other ingredients.
Stuffed Squash with Quinoa and Sausage Ingredients
Directions
Preheat oven to 375 degrees.
Slice squash down the middle lengthwise. Remove seeds with a spoon.
Chop the white part of the spring garlic.
Cook sausage in a skillet for 2-3 minutes, breaking it up with a spoon. Add spring garlic and cook for 2-3 minutes more. Add quinoa.
Place squash on a rimmed baking sheet. Fill with stuffing and pack down gently.
 Bake in the oven (c

overed with foil)

for 20 to 30 minutes until the squash is tender.
Always use organic fruits and vegetables in your recipes.
Do you live in one of these Southern California Cities? Aguanga, Fallbrook, Hemet, Homeland, Lake Elsinore, Menifee, Murrieta, Temecula, Wildomar, or Winchester.  If you do, you can use the local organic fruits and vegetables in our harvest deliveries for these recipes.
Other Great Recipes and Resources