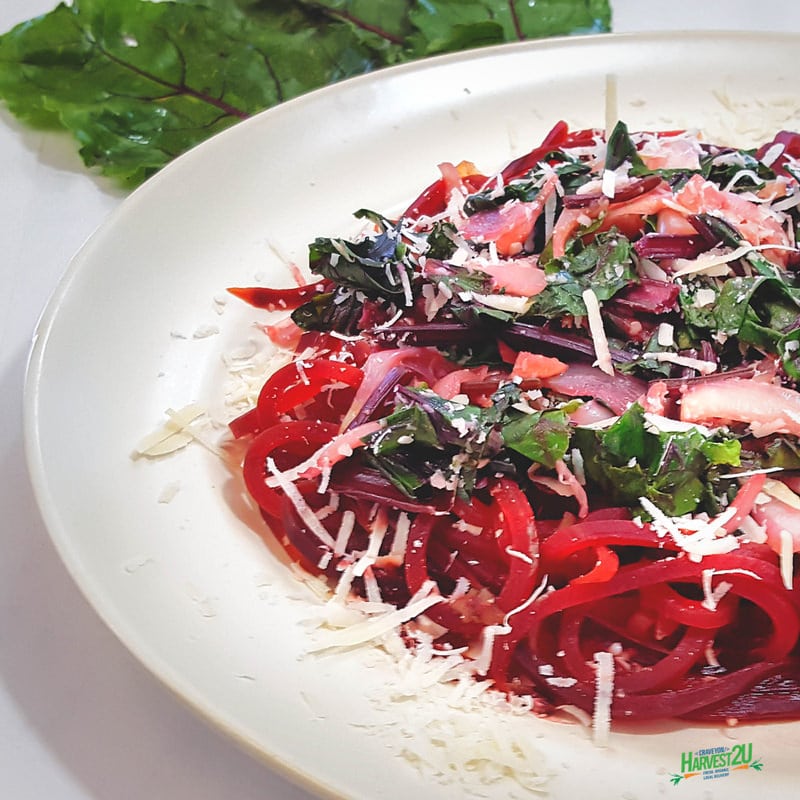 Beet Noodles and Greens – High in Fiber, Vitamins & Minerals
This Beet Noodles and Greens recipe is an easy and colorful way to serve the entire beet. Yes, the beet leaves are edible and can be prepared just like any other green such as spinach or kale.
Beetroots are high in fiber, vitamin C, potassium, and manganese. Interestingly, the greens are more nutritious than the roots and more than its dark green leafy vegetable cousins. Many nutritionists consider it a wonder-food. They are an excellent source of iron, carotenoids vitamin K, calcium, and magnesium. And they have very mild taste compared to other more bitter greens.
Beet Noodles and Greens Ingredients
1 bunch beets
1 tablespoon olive oil
1 medium onion, chopped
1 bulb spring (green) garlic or 2-3 cloves garlic, chopped
1/4 cup Parmesan cheese
Directions
Trim tops off beets. Discard root tip.
Peel the beetroot and chop the tops.
Boil

 

2 quarts of water in a large saucepan.
Spiralize beetroot.
Cook in boiling water until desired tenderness.
As noodles are cooking, heat olive oil in a skillet over medium heat.
Add onions and garlic, cook until onions are translucent.
Add beet greens and cook until desired tenderness.
Combine noodles and greens, top with Parmesan cheese.
Add salt and pepper to taste and serve.
Always use organic fruits and vegetables in your recipes.
Do you live in one of these Southern California Cities? Aguanga, Fallbrook, Hemet, Homeland, Lake Elsinore, Menifee, Murrieta, Temecula, Wildomar, or Winchester.  If you do, you can use the local organic fruits and vegetables in our harvest deliveries for these recipes.
Other Great Recipes and Resources