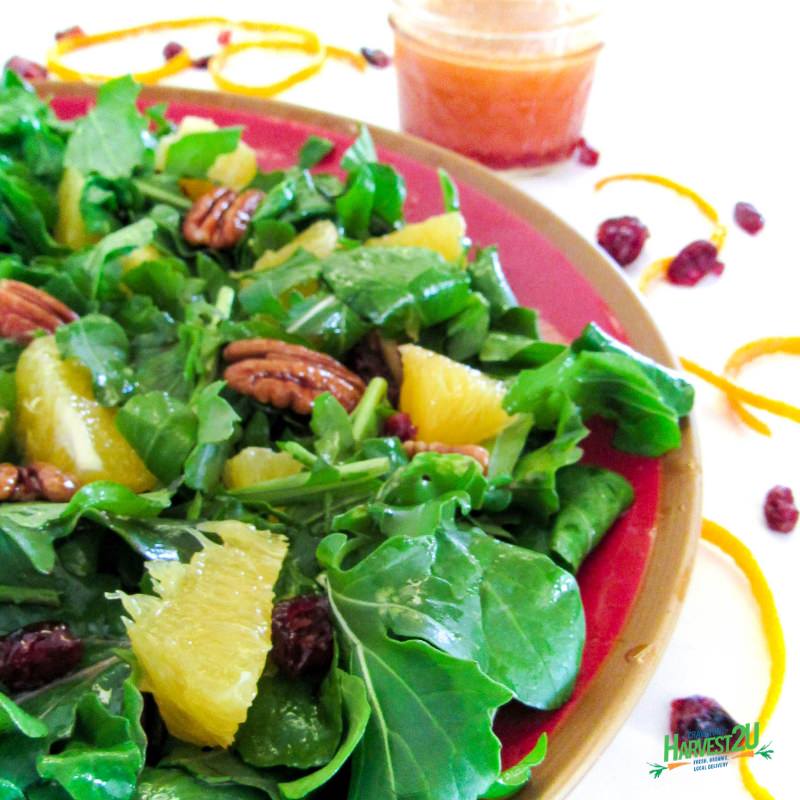 Orange Cranberry Salad – With Tea Infused Dressing
This Orange Cranberry Salad is simple but bursting with flavor, especially with the Tea Infused Dressing.
Salad dressing and soups are two things I cannot understand buying in the store. They are both so easy to make yourself and so much better. This orange cranberry salad dressing takes five extra minutes to boil a little vinegar and steep the tea. I used an herbal berry tea, but cranberry or orange spice would pair nicely with this salad.
I used arugula because I love the bold peppery taste. Did you know arugula is one of the top 10 most nutrient-dense foods? You can swap some or all of the arugula for spinach or even Romaine lettuce if you prefer.
Orange Cranberry Salad Ingredients
1 or 2 oranges
1/3 cup apple cider vinegar
1/3 cup olive oil
1 tea bag (berry, cranberry or orange-flavored)
1 tablespoon honey
1 bunch arugula (or spinach or lettuce)
1/4 cup dried cranberries
1/4 cup pecans
Directions:
Zest the orange (remove the orange part of the peel), then peel, seed, and slice the orange into chunks and set aside.
In a small saucepan bring apple cider vinegar, orange zest, and tea bag to a boil.
Remove from heat and let steep for 5 minutes.
Strain the vinegar into a small jar or bowl.
Add olive oil and honey.
Place lid on the jar and shake until combined (or whisk together in a small bowl).
In a salad bowl, combine arugula, oranges, cranberries, and pecans.
Add dressing to taste (you will probably have plenty left over).