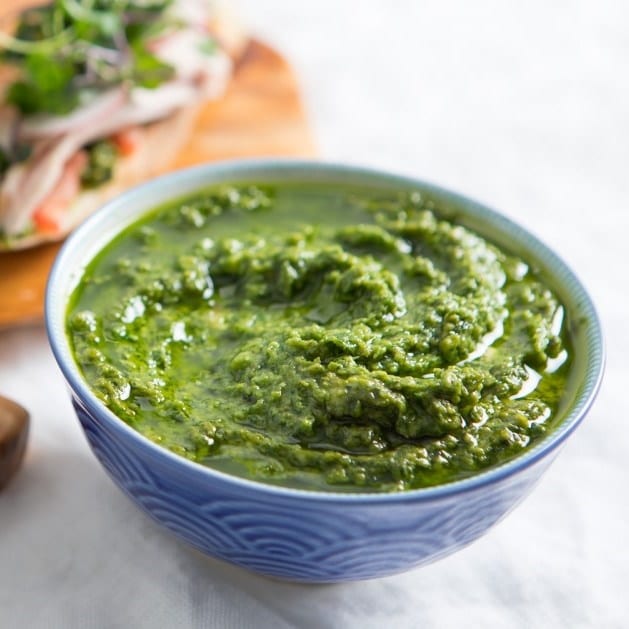 Microgreens Pesto – A Versatile Sauce
Microgreens Pesto is a versatile sauce. We like to put it on pasta, but you can use it as a condiment, a salad dressing, on pizza, on pasta, on sandwiches, and side dishes.
Microgreens Pesto Ingredients
2 cups Microgreens (your choice)
2 cups Fresh Kale, Chopped (no stems)
1/4 cup Pepitas (Pumpkin Seeds) unsalted
2 cloves garlic minced
1/2 cup freshly grated Parmesan cheese
3 Tablespoons lemon juice
1-2 Tablespoons Red or White Balsamic Vinaigrette
3/4 cup Extra virgin olive oil
1/4 cup chopped onion
Directions
Pulse pepitas in a food processor or blender until finely ground. Set aside
Place Kale, Microgreens, Garlic, Lemon Juice, Vinaigrette, Salt and ½ cup olive oil in blender or food processor. Process till it begins to grind greens up
Drizzling remaining olive oil in as processing.
May need to stop and stir with a spatula to process fully. The mixture should be blended but not pureed smooth.
When Processed to desired consistency, pour into mixing bowl.
Stir in Pepitas and Parmesan cheese. Taste pesto. Can add 1-2 tablespoons more vinaigrette if desired.
Store in refrigerator. The flavor of the Microgreens Pesto will intensify after 24 hours.