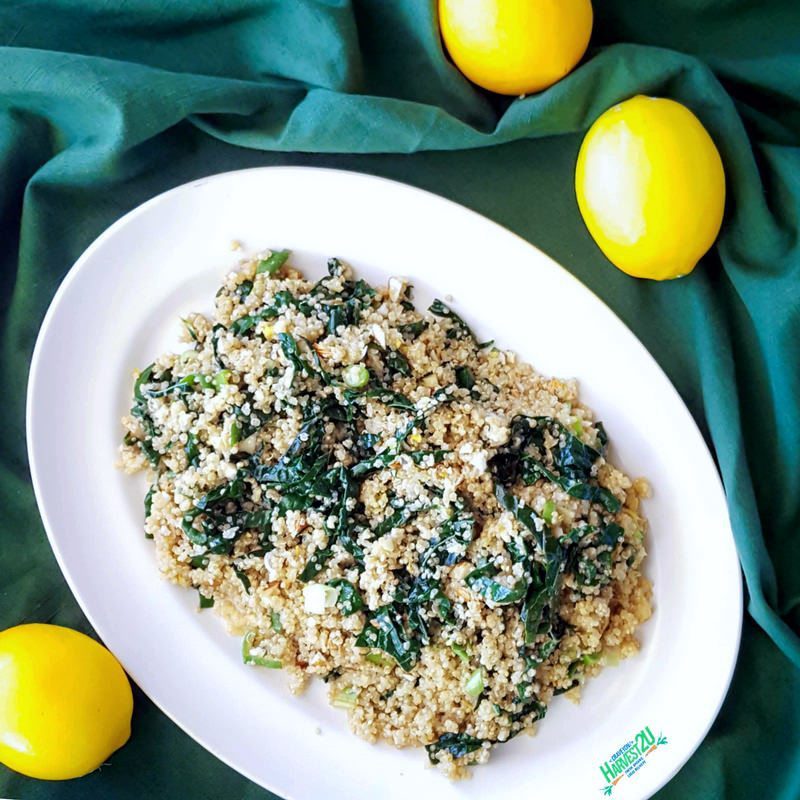 Lemony Kale and Quinoa – A Flavor-Packed Dish
This delicious Lemony Kale and Quinoa flavor-packed dish is ready in under 30 minutes. It packs quite the heart-healthy punch with the vitamin-rich kale and lemon combined with the good fats in the quinoa, nuts and olive oil.
Lacinato (Tuscan) kale is a bit easier to use in this recipe because of its long flat leaves, but curly kale will do if that's what you have.
Lemony Kale and Quinoa Ingredients
Directions
In a medium saucepan bring broth to a boil. Add quinoa. Reduce heat, cover and simmer for 10 minutes.
While quinoa is cooking remove the center stem from kale and cut into 4 big pieces.
Roll the pieces and cut into thin strips.
After quinoa has cooked for 10 minutes, add kale on top and recover.
Simmer for 5 minutes, then remove from heat and let the pan sit covered for another 5 minutes.
Chop scallions and place in a medium bowl.
Zest the entire lemon and juice 1/2 of it (save the other half for another use), adding both to the bowl.
Add olive oil and chopped nuts.
Add kale and quinoa to a bowl, stirring until ingredients are thoroughly combined.
Serve warm or chill for a few hours to enjoy as a salad.
---
The chef Audrey Humaciu created this recipe for Harvest2U.
Audrey is the Editor in Chef at That Recipe and VP of Creativity and Sarcasm at Munofore. When she's not blogging about her eclectic interests from cooking and crafting to ornamental horticulture and the idiosyncrasies of the American language, she's just your typical 40 something mom livin' the life in the California burbs… without the minivan and overpriced coffee.
Like Recipe Videos? Check out our Weekly Video Recipe Series. Recipe Videos
Always use organic fruits and vegetables in these recipes. Local source: Harvest2U, a Temecula Organic produce company.