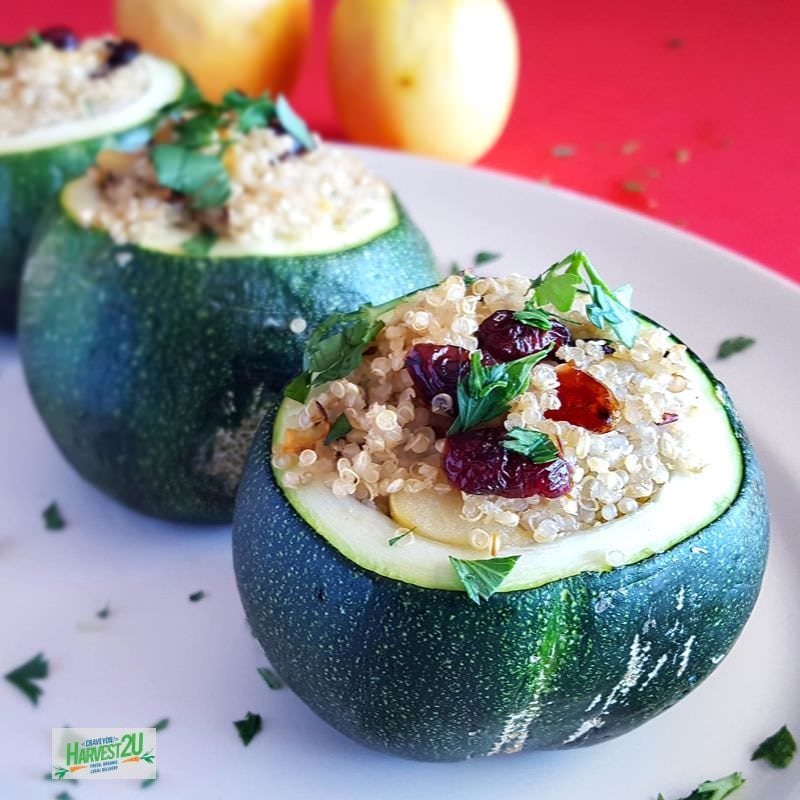 Apple and Quinoa Stuffed Squash – Use Your Favorite Squash
This Apple and Quinoa Stuffed Squash can be made with your favorite summer or winter squash. For winter squashes, you will need to prebake the squash for about 20-30 minutes before stuffing it.
I used round summer squash to make this Apple and Quinoa Stuffed Squash and since they are small I only sliced off the top and scooped out the middle. Larger round winter squashes, like acorn squashes, can be sliced in the middle and each half stuffed.
Apple and Quinoa Stuffed Squash Ingredients
4 small or one large squash
2 cups water, or vegetable or chicken broth
1 cup quinoa
1 tablespoon olive oil
2 apples, peeled cored and diced
1 leek, white part cut into thin slices
1/4 cup dried cranberries or raisins
2 tablespoons fresh parsley or other fresh herbs
salt and pepper to taste
Directions
If using a winter squash: cut in half through the stem, scoop out seeds and enough flesh to make a cavity for stuffing. Place on a baking sheet cut side down and bake for 20 minutes.
If using small summer squashes, cut and remove seeds and flesh to make a cavity.
In a medium saucepan, combine 1 cup quinoa and 2 cups water.
Bring to a boil, reduce heat to simmer, cover and cook 10 minutes.
In a skillet heat olive oil over medium heat.
Add apples, leeks, cranberries, and herbs. Cook until leeks are tender and apples are beginning to brown.
Add apple mixture to cooked quinoa.
Salt and pepper to taste.
Fill squash with stuffing. Bake for 20-30 minutes until squash is cooked.
Always use organic fruits and vegetables in your recipes.
Do you live in one of these Southern California Cities? Aguanga, Fallbrook, Hemet, Homeland, Lake Elsinore, Menifee, Murrieta, Temecula, Wildomar, or Winchester.  If you do, you can use the local organic fruits and vegetables in our harvest deliveries for these recipes.
Resources and Recipes
FREE Weekly Video Recipe Series
Sign-up for our 30-second (all under a minute) video recipe series is designed to provide you with an easy way to use Harvest2U's locally grown organic produce.