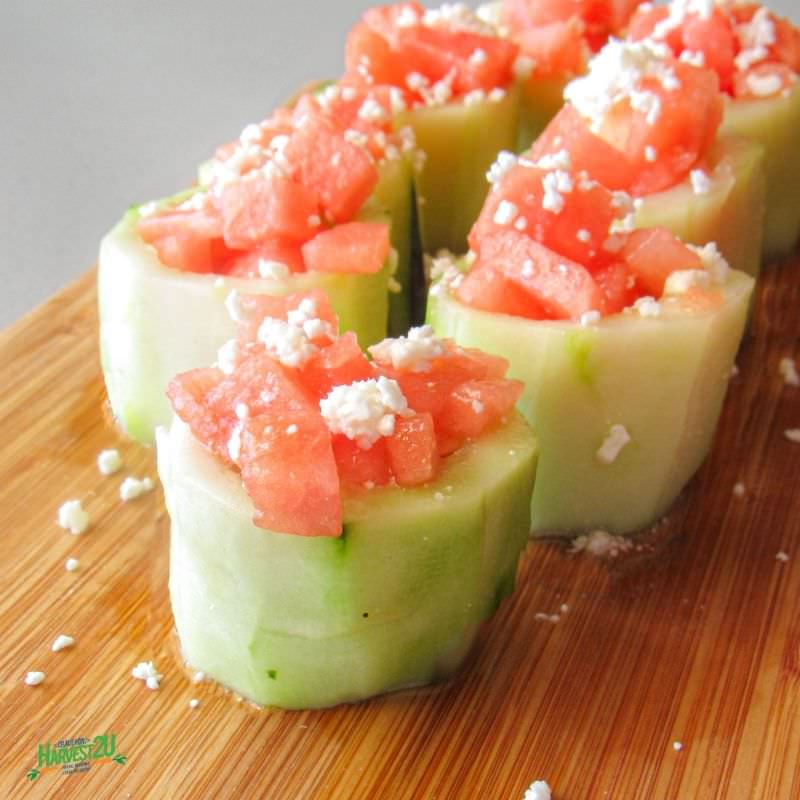 Watermelon Cucumber Cups – A Fun Appetizer or Salad
Watermelon Cucumber Cups are a fun appetizer or salad for your summer entertaining. The sweet watermelon, salty feta, and lemony dressing all come together in a fun presentation called Watermelon Cucumber Cups.
Watermelon and cucumbers are both a part of the Cucurbitaceae family that includes squash and gourds too. Both cucumbers and watermelon are high in water content, which is perfect for helping keep hydrated during the hot summer months when they are at their peak. Cucumbers are also a good source of potassium and vitamin K while watermelon provides vitamins A and C and a nice dose of lycopene as well.
If you don't feel like making the cups, you can always chop up the cucumbers and add them to the watermelon and feta for a salad.
Watermelon Cucumber Cups Ingredients
5-6 large cucumbers (2-3 if just making a salad)
1 1/2 tablespoons honey
1 tablespoon rice vinegar
1 tablespoon olive oil
2 teaspoons lemon or lime juice
4-5 cups watermelon, chopped into small pieces
4 ounces feta cheese
Directions
To prepare the cucumber cups: peel the cucumbers, cut off the ends, and cut the cucumber into 2-inch pieces.
Carefully scoop out the center of the pieces leaving at least 1/4 inch on the bottom.
In a medium bowl, whisk together the honey, vinegar, olive oil, and lemon juice.
Add watermelon pieces and half of the feta. Stir to coat.
Fill the cucumber cups with the watermelon.
Drizzle with any remaining dressing and sprinkle with the remaining feta.
Serve immediately.
Always use organic fruits and vegetables in your recipes.
Do you live in one of these Southern California Cities? Aguanga, Fallbrook, Hemet, Homeland, Lake Elsinore, Menifee, Murrieta, Temecula, Wildomar, or Winchester.  If you do, you can use the local organic fruits and vegetables in our harvest deliveries for these recipes.
Resources and Recipes