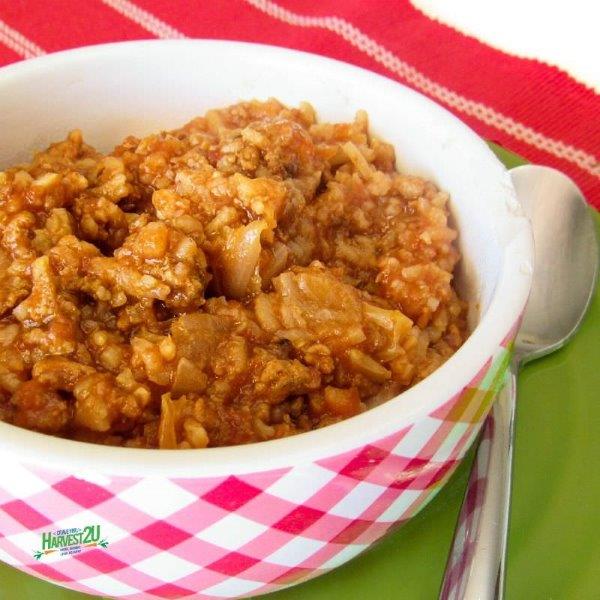 Un Stuffed Cabbage Casserole in the Pressure Cooker
This Un Stuffed Cabbage Casserole has all of the flavors of traditional Hungarian Stuffed Cabbage made faster, easier and less offensive to the olfactory senses.
My Hungarian mother-in-law makes her mother's stuffed cabbage recipe every year just before Christmas. It is easy, but a little labor-intensive to fill and roll each piece, and then it simmers for 2+ hours filling the house with the sulfurous smell of cooking cabbage. I used her recipe and made it a little healthier by swapping ground turkey for the beef and pork, using brown rice and adjusting the meat rice ratio.
That sulfurous smell of stuffed cabbage casserole cooking is one of the reasons cabbage is so good for you. Sinigrin is a sulfur-containing phytonutrient that has shown unique cancer-preventing abilities. Cabbage also contains at least 20 flavinoids and 15 phenols with antioxidant properties. Plus vitamins K, C and B6, and manganese and fiber. (source)
Un Stuffed Cabbage Casserole Ingredients
1 tablespoon olive oil
1 medium onion, chopped (about 3/4-1 cup)
1 clove garlic, minced
1 pound ground turkey (or beef, pork or plant-based substitute)
1 teaspoon thyme
2 tablespoons paprika
1 can (10 ounces) low sodium tomato soup
1 can (28-30 ounce) low sodium tomato sauce
1 cup uncooked brown rice
1 medium head cabbage, core removed and cut into 1/2 inch pieces
1 cup water or stock
Directions
In the pressure cooker, saute onions and garlic in the olive oil for 2-3 minutes, until the onions start to turn transparent.
Add meat and break up with a spoon. Season with thyme and paprika. Brown the meat, about 5 minutes.
Add tomato soup and sauce and deglaze (stir while rubbing the bottom of the pan to loosen any browned goodness).
Sprinkle rice on top. Add cabbage on top and press down gently. Pour 1 cup of water on top.
Seal the pressure cooker and cook on high for 24 minutes.
Let sit for 10 minutes, then release remaining pressure. Stir and adjust seasonings if needed.