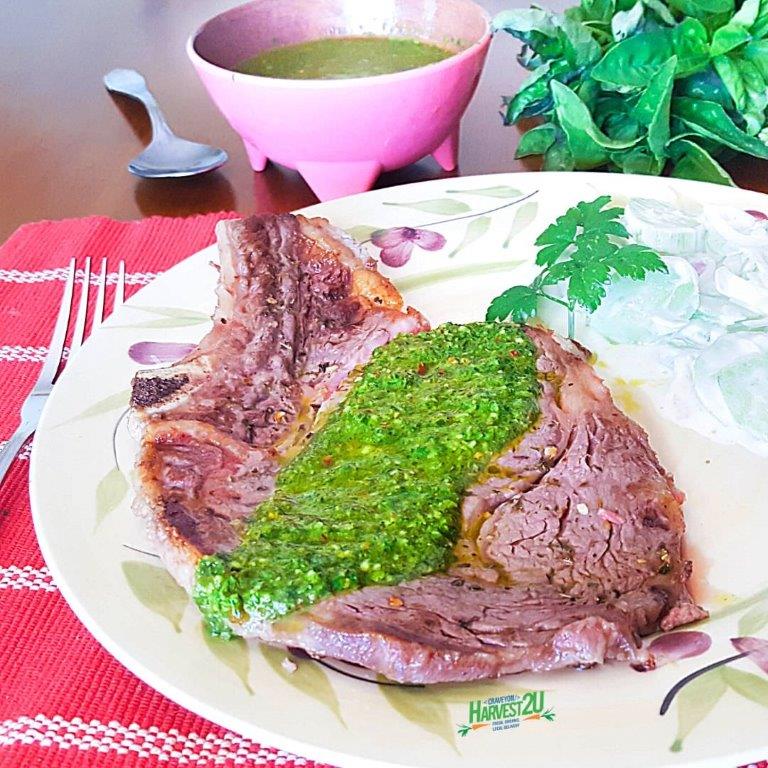 Basil Chimichurri – An Amazing Sauce in 5 Minutes
Basil Chimichurri is a variation of the famous Argentine green sauce using basil in addition to the traditional parsley and oregano. Or you can use all basil, or add in some cilantro, or whatever fresh herbs you have on hand. Use it as a marinade or serve it on beef, vegetables, pasta, or a spread on sandwiches.
Fresh green herbs like parsley and basil are dark leafy greens and provide a flavorful source of vitamins A, C and K. They also have polyphenols which are powerful antioxidant plant compounds which can help protect your body from a host of chronic illnesses such including heart disease and cancer.
Basil Chimichurri Ingredients
1 cup fresh basil leaves
1 cup fresh parsley leaves
4 cloves garlic, chopped
2 tablespoons fresh oregano leaves
1 teaspoon red pepper flakes (more or less to taste)
1 teaspoon salt
1/4 cup red wine vinegar (or apple cider vinegar)
1/2 cup olive oil
Directions
In a food processor chop the basil, parsley, garlic, oregano, red pepper, and salt with about 10 quick pulses.
Scrape down the sides and add the red wine vinegar. Puree for about 30 seconds.
Add olive oil and mix for another 30 seconds or so until the sauce is smooth and emulsified.
Let stand at least one hour for flavors to fully develop.