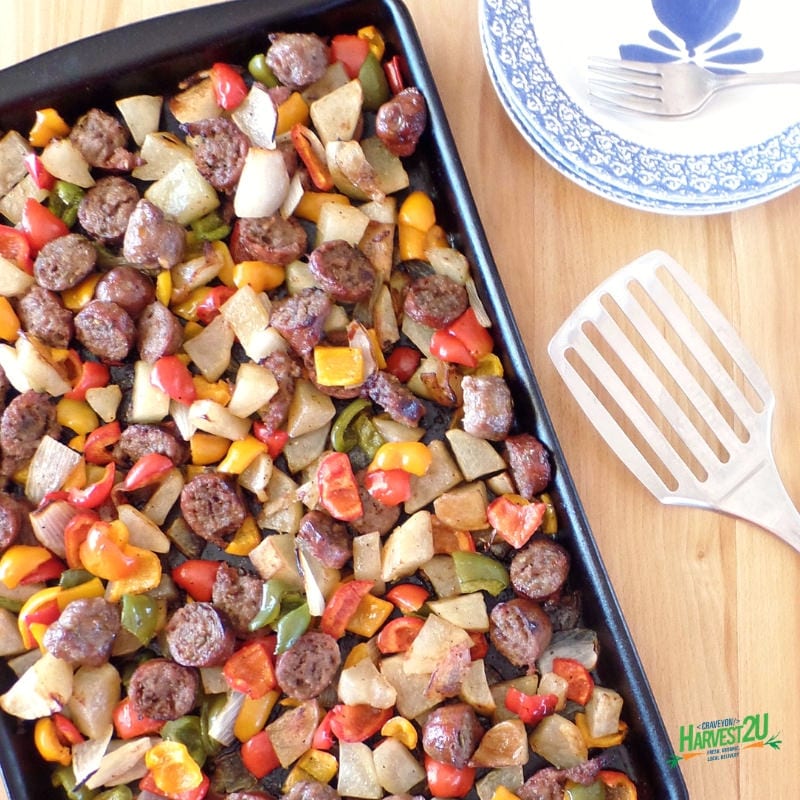 Sausage and Pepper Hash – An Easy Sheet Pan Dinner
Sausage and Pepper Hash is a healthy one-pan dish that cooks up in under 30 minutes. This Sausage and Pepper Hash is perfect for hot summer nights when bell peppers are at their best.
Bell peppers are loaded with vitamin C, with 159% of the RDI in one serving. They also contain different amounts of carotenoids based on color: capsanthin (red), violaxanthin (yellow), and lutein (green). The green bell pepper is just an unripened version of the red or yellow.
Sausage and Pepper Hash Ingredients
4 large potatoes or equivalent
4 Italian turkey sausage links (spicy or mild)
2 pounds green, red, and yellow bell peppers.
2 tablespoons olive oil (divided use)
salt and pepper to taste
Directions
Preheat oven to 425 degrees. Line a sheet pan with foil for easy clean up if desired.
Peel potatoes and cut into medium cubes.
In a medium bowl, add potatoes, 1 tablespoon olive oil, and a little salt and pepper. Toss to coat.
Spread the potatoes in a single layer on the sheet pan. Add sausages between the potatoes — Bake for 10 minutes.
While potatoes and sausage are baking, seed, and cut bell peppers into strips or chunks. Toss with remaining olive oil and a little salt and pepper.
Remove potatoes and sausage from the oven. If you like crispier potatoes, turn them and put bake in the oven for 5 minutes.
Cut sausages into bite-sized pieces. Return to the pan with the bell peppers. Stir everything and spread into a single layer.
Bake another 10-12 minutes until the sausage is cooked and peppers have softened.