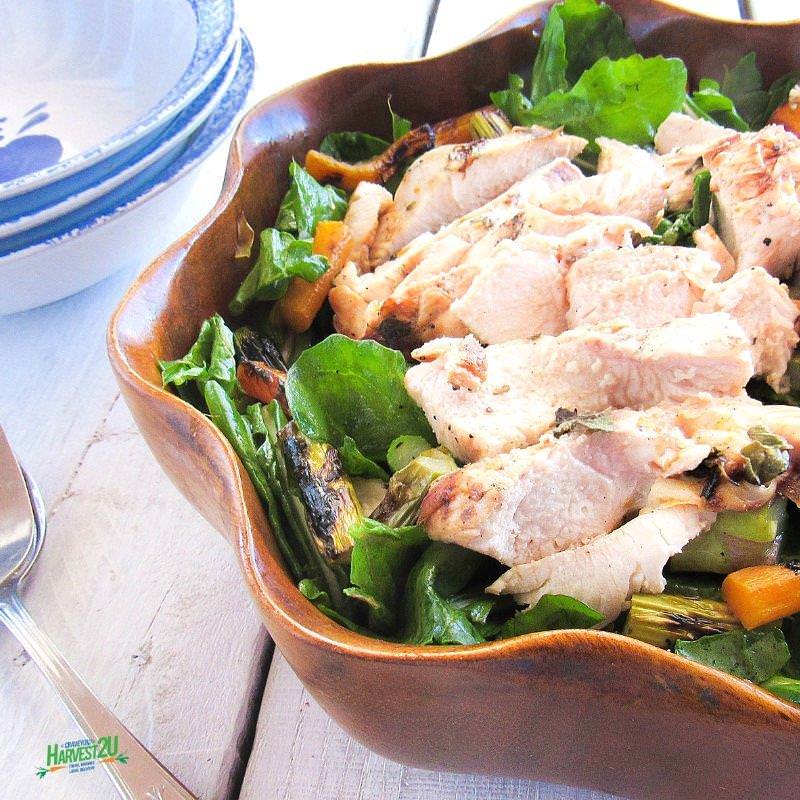 Grilled Lemon Herb Chicken Salad – Best Flavors of Spring
This Grilled Lemon Herb Chicken Salad takes some of the best flavors of spring and grills them for a bolder flavor.
This is best with younger, less woody asparagus and carrots. But, if you have thicker ones, you can peel the woody part of the asparagus and trim out the hard center core of the carrots. Carrots and asparagus are both excellent sources for vitamins A, C, and K as well as fiber. Both vegetables can help prevent cancer and heart disease among a host of other conditions.
I used all arugula for a nice peppery bite to complement the other ingredients in this Lemon Herb Chicken Salad, but you can use your favorite lettuce in place of half or all of it.
Grilled Lemon Herb Chicken Salad Ingredients
1 large lemon
2-3 cloves garlic, chopped
2 tablespoons fresh oregano (or another fresh herb such as rosemary or cilantro)
1 pound boneless chicken breasts or thighs, pound to an even thickness if needed
8 ounces asparagus
4-5 carrots
2 tablespoons olive oil
salt and pepper to taste
1 bunch arugula
2 tablespoons apple cider vinegar or flavored vinegar
Directions
Zest and juice the lemon.
In a medium bowl combine lemon zest, juice, garlic, oregano and chicken and mix until chicken is coated.
Heat a gas grill (or grill pan for the stove) to medium-high.
Trim off woody ends of the asparagus and cut in half.
Scrub the carrots clean and cut to be about the same size as the asparagus.
In a medium bowl, coat the asparagus and carrots with the olive oil and add salt and pepper to taste.
Grill the chicken until cooked. Remove from grill and tent with foil while grilling the asparagus and carrots.
Tear Arugula into bite-sized pieces and add to a salad bowl.
Chop asparagus and carrots and add to the arugula.
Add the olive oil and vinegar and toss until coated.
Slice the chicken into thin strips and serve on top of the salad.