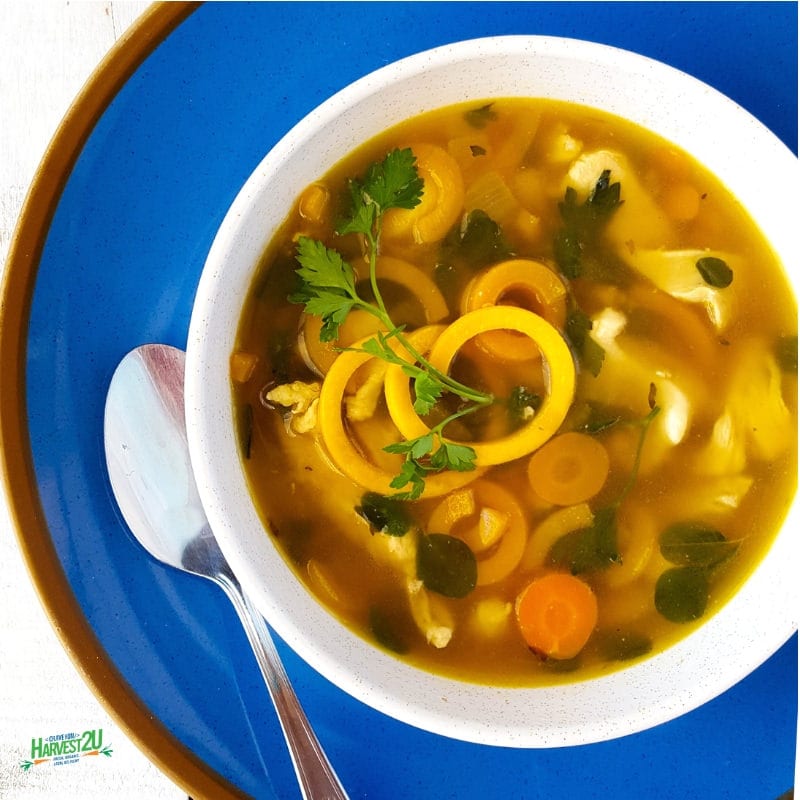 Low Carb Chicken Noodle Soup – Easy and Nutrient-Dense
This Low Carb Chicken Noodle Soup may not cure a common cold, but it makes a wonderful meal on a chilly night. And, if you do happen to have a cold, the combination of vegetables, vegetables, chicken, and hot broth will help ease your symptoms as well.
Instead of traditional pasta, this Low Carb Chicken Noodle Soup recipe uses spiralized butternut squash giving the soup a heaping dose of vitamin C, potassium and vitamin A. You won't be able to spiralize the bulb end of the squash, but don't throw it out! Cube it and roast it for use in salads or other recipes.
I threw in some moringa leaves which adds, even more, vitamin C and potassium. You can substitute other greens such as kale or spinach if you prefer.
Add in the antiviral, antibacterial and other nutritional benefits of the onions and garlic along with the carrots, chicken and hot broth and you have an easy to prepare and nutrient-dense meal.
Low Carb Chicken Noodle Soup Ingredients
1 large butternut squash, spiralized into noodles
2 tablespoons olive oil, divided use
1/2 yellow onion, diced
1/2 cup carrots, sliced
3-4 cloves garlic, minced
1/2 cup fresh parsley
1/2 pound chicken cut into thin strips or chunks
1-quart chicken broth
1 cup moringa leaves
salt and pepper to taste
Directions
Toss the spiralized squash with 1 tablespoon olive oil, add salt and pepper if desired.
Spread noodles in a single layer on a baking sheet and roast at 375 degrees for 10 minutes.
While the squash is roasting, heat 1 tablespoon olive oil in a stockpot over medium heat.
Add onions and garlic and cook 1-2 minutes until onion begins to turn translucent.
Add carrots and parsley and cook for 5 minutes.
Push the vegetables to the outside of the pot and add the chicken. Cook for a few minutes until white on the outside.
Add the broth and stir to remove the bits on the bottom of the pan. Simmer for 10 minutes.
Add the noodles and moringa leaves and cook about 5 minutes more. Do not over stir the noodles or they will break apart.