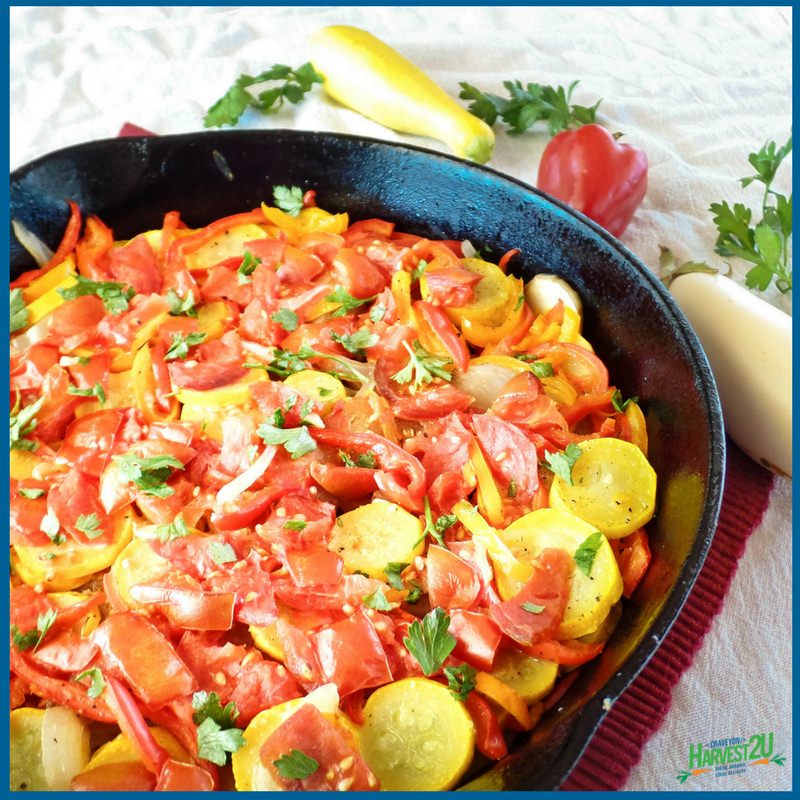 Ratatouille – Combination of Organic Summer Produce
Ratatouille is a peasant dish with origins in the Provence region of France. It is a simple but flavorful combination of summer produce like eggplant, zucchini (or other summer squash), and tomatoes. Toss in some onions and garlic plus fresh herbs for extra flavor, and you have a delicious vegetable dish.
In the movie of the same name, Remy makes a dramatic presentation of the dish by slicing the vegetables in circles and placing them in beautiful concentric circles around the baking-plate. If you want to go to the time, you can do it that way. This version is a bit of a cross between the traditional chunked vegetables and the deluxe movie version.
You can use large globe eggplant or the smaller skinnier version. If using the larger version, cut it into circles then halves or quarters.
Peasant Ratatouille Ingredients
Directions
In a large skillet, cook the garlic and onions in 2 tablespoons of olive oil over medium heat. Cook until onions are translucent.
Mix half the onions with the eggplant and the other half with the zucchini.
Put half the eggplant in the skillet in a single layer. Then half the zucchini. Then half of the bell peppers. Drizzle with some olive oil, salt, and pepper.
Repeat with the remaining eggplant, zucchini, and peppers. Drizzle with more oil, salt, and pepper.  Top with tomatoes.
Cover the skillet and cook on medium until the vegetables are tender about 20-30 minutes.
Top with fresh herbs and serve.