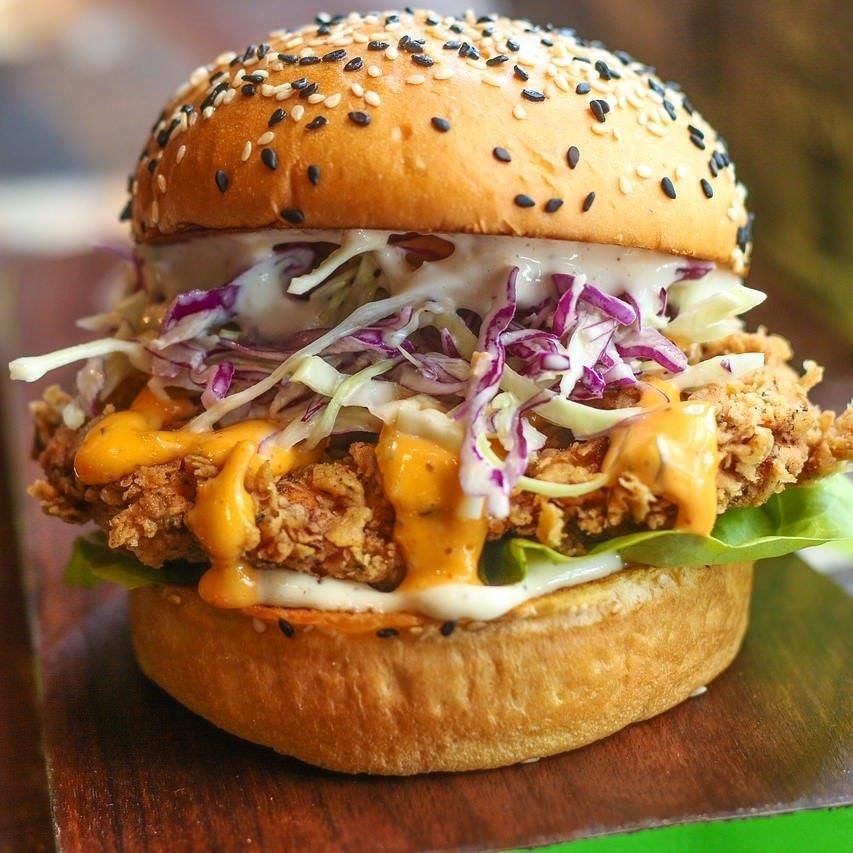 BBQ Chicken Burgers with Keto Kohlrabi Coleslaw
These mouthwatering chicken burgers only take less than 30 minutes to prepare. Most of the ingredients you probably have on hand. And the crunchy Keto Kohlrabi Coleslaw topping is super easy to make in a short time.
The Keto Kohlrabi Coleslaw is an excellent addition to burgers and your summer meals. This super easy recipe is here »
BBQ Chicken Burgers Ingredients
1 tbsp butter
1 tbsp extra-virgin olive oil
1/2 red onion – finely chopped
2 cloves garlic, finely chopped
2 tbsps tomato paste
1 tsp organic sugar
1 tbsps your favorite hot sauce
1 1/4 pounds ground pasture-raised chicken
1 tbsps of your favorite grill seasoning
1 tbsps of organic Worcestershire sauce
2 cups Keto Kohlrabi Coleslaw
Salt and pepper
4 organic burger buns
Optional – instead of buns use loose-leaf lettuce to make protein style chicken burgers
Directions
In a skillet melt butter over medium heat.
Add garlic, chopped onions, and tomato paste and simmer for 5 minutes to sweeten and soften.
Sprinkle in sugar and remove from heat. Cool in a bowl, 5 minutes.
Add tomato paste mixture, Worcestershire, hot sauce to bowl and combine.
Add chicken to the bowl then seasoning and combine the burgers well and form 4 patties.
Heat the olive oil in a skillet over medium-high heat. Cook patties 5-6 minutes on each side.
Serve the chicken burgers on buns (or lettuce wrap) topped with Keto Kohlrabi Coleslaw.
Always use organic fruits and vegetables in your recipes.
Do you live in one of these Southern California Cities? Aguanga, Fallbrook, Hemet, Homeland, Lake Elsinore, Menifee, Murrieta, Temecula, Wildomar, or Winchester.  If you do, you can use the local organic fruits and vegetables in our harvest deliveries for these recipes.
Resources and Recipes