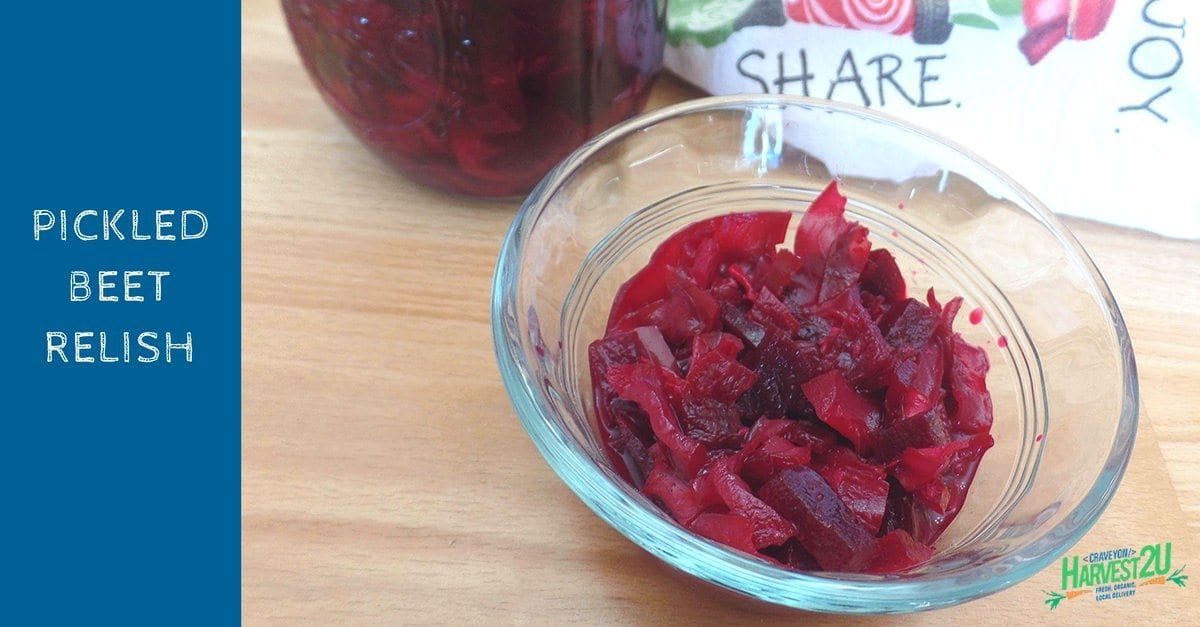 Pickled Beet Relish – Perfect for Sandwiches or Burgers
This Pickled Beet Relish is a bright red cousin to its cucumber cousin "Sweet Pickle Relish." It is equally delicious on sandwiches or burgers. I made mine a little chunky. But, feel free to chop it up finer if you desire. This recipe uses about one bunch of beets and ½ to one head of cabbage depending on the size. You want roughly equal amounts of 2 cups each. It makes about one quart which you can quickly put in a glass jar in the fridge – no canning required! Want to can it to save for later or give to family and friends? Cut the simmer in half and process in a boiling-water canner.
Pickled Beet Relish Ingredients
1 small head cabbage
 5-6 medium beets
1 red bell pepper
2/3 cup sugar
½ tablespoon prepared horseradish
½ tablespoon salt
Directions
Peel beets, wrap in foil and bake at 400 degrees for about an hour. Let cool.
Remove center core from the cabbage and cut into thin shreds.
Chop beets, bell pepper, and onions into small pieces.
Place all vegetables into a large pot. Add remaining ingredients.
Simmer for 20 minutes.
Store in refrigerator.
Bonus
Most pickle recipes make more brine than you actually need to cover the pickles. Here's an easy way to use it up.  See Pickled Beet Eggs to use the leftover brine.
---
The renowned chef Audrey Humaciu created this recipe for Harvest2U.
Audrey is the Editor in Chef at That Recipe and VP of Creativity and Sarcasm at Munofore. When she's not blogging about her eclectic interests from cooking and crafting to ornamental horticulture and the idiosyncrasies of the American language, she's just your typical 40 something mom livin' the life in the California burbs… without the minivan and over priced coffee.
Like Recipe Videos? Check out our Weekly Video Recipe Series. Recipe Videos
Always use organic fruits and vegetables in these recipes. Local source: Harvest2U, a Temecula Organic produce company.